Starlink internet 'dishy' faces off against snow, wildfires in remote Canada
FSET surpassed 1,000 Starlink installs in December bringing broadband access to the Pikangikum First Nation.
Starlink internet was designed for remote communities where basic broadband access was scarce, but outside geographical obstacles, these areas also face extreme weather from blizzards to wildfires.
More than a year after Starlink internet first arrived in the Pikangikum First Nation in northwestern Ontario, FSET CEO David Brown said he couldn't think of one Starlink kit that has gone down due to extreme temperatures or weather.
As SpaceX continues to launch more satellites, service has improved even in the coldest months of the year.
"We were getting 30 up and 130 down within 20 minutes of landing in the community. Put the dish on the ground and turned it on. They had access. It was just that quick," Brown said, adding now speeds are over 200. "The latency has improved, and it's done it all through four seasons, cold and summer, as well."
Brown and his wife, Nicole Brown, run FSET, a technology solution company based in Kenora, Ontario. They have led the way in installing Starlink internet kits to area First Nation communities and recently surpassed 1,000 installations.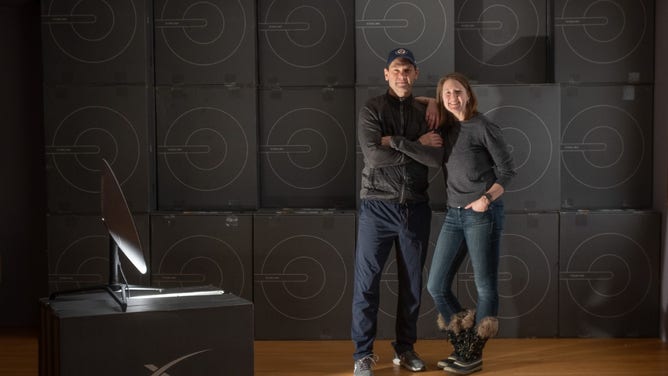 Pikangikum First Nation is a remote access community primarily accessible by air or boat.
"We're not going to let geography limit what opportunities our customers have. So we weren't going to let that be an excuse to not solve these problems," Brown said. "And geography is a challenge, but it's one especially, more recently, with Starlink technology we've been able to overcome."
SpaceX began launching Starlink satellites about three years ago to develop a space-based internet using a constellation of thousands of satellites. OneWeb and Amazon's Kuiper Project also plan to provide broadband this way. SpaceX is by far the furthest along with a growing customer base.
Starlink service is now available in more than a dozen countries, and SpaceX has launched more than 1,700 satellites in low-Earth orbit.

For a $500 deposit, customers can order their Starlink kits that include a dish nicknamed "dishy" and be set up using a smartphone. More than 100,000 Starlink user terminals had shipped, and more than half a million people have ordered or put down a deposit for the new internet service.
'Dishy' built to handle cold

According to Starlink's website, "dishy" can melt snow. Brown says this is smart engineering at work.
"There's a lot of heat generated by the modem itself within the dish … they figured out a way to take that heat and maximize how they can use and leverage that for conditions like ours here in the North," Brown explained. "So when you have snow, or you have freezing rain or anything like that, it sort of mitigates against that because it's generating heat that's using that heat to deal with that snow in that ice. There is nothing like it out there right now, right? So changing the world."
In northwest Ontario, winters are cold, with the wind chill dropping temperatures to minus 40-degrees, and mild summers can reach into the upper 80s. Wildfires are also a challenge for typical broadband services, Brown said.
Starlink has been tested to withstand -22 to +122 degrees Fahrenheit and handle hail, sleet and heavy rain. The company does warn it's "not designed to handle hurricanes, tornadoes, earthquakes, meteors, dinosaurs, or other extreme forces of nature." 
The Starlink sub-Reddit has become ground zero for customers worldwide sharing their pictures of "dishy" in snow and ice and posting download speeds with screenshots from Fast.com or speedtest.net.
On the opposite end of the spectrum, Brown said he has heard the more significant issue has been performance in hotter temperatures.
Earlier this year, some households in Navajo Nation in Coconino County, Arizona received Starlink internet as part of the pilot program.
Coconino County senior communications manager Claire Harper said 45 users have successfully been part of the Starlink BETA program as of December.
"None of the recipients of our project have reported any incidents with Starlink Internet equipment that we are aware of, related to inclement weather or otherwise," Harper wrote in an email to FOX Weather.
'They put a lot of trust in us'
After years of searching for a solution to help the communities north of Red Lake connect, Brown said his team eventually got in touch with SpaceX.
"They were struggling with the ability to connect, to communicate, to access resources, to be able to, to do business and just, you know, a lot of the things we took for granted and take for granted that people don't realize what a quality of life change it is to have that access to broadband," Brown said. "And they put a lot of trust in us, a lot of faith in us to help them solve a problem that they had tried to solve themselves."
They started with big picture needs.
"How do we help the community as a whole?" Brown said. "So we looked at all of their businesses and their institutions … their health care services, their mental health, their justice system, their law enforcement, their local business, their economic development, like all of those things that benefit everybody that lives in the community."
A year later, FSET continues to help with installations and funding applications for communities to offset some costs for the Starlink kits. Brown estimates they will have thousands of kits installed by the end of 2022.
In December, FSET worked with the Canadian justice system to deliver the first virtual court in the area.
"Court Previously in the community was difficult because you had to fly in, you know, the judge and the crown attorneys, you had to fly in the defense, you had to fly in sometimes your office or whoever it might be to hold court, even for the most simple of conversations and in court proceedings, now they're able to do that virtually," Brown said.
Starlink has also been beneficial for first responders in Pikangikum. The law enforcement detachment now has access to the internet. The detachment commander told Brown the most significant impact was quality of life for the officers.
"Quite often, they are away from home. They're away from loved ones for stretches at a time. But now, they can maintain that connection. They can FaceTime with their loved ones. They can read books to their kids, you know, and sort of see the kids and say goodnight."
The Pikangikum First Nation has now had Starlink service through winter weather, warm summers and wildfire season. Brown said the community hadn't experienced any weather-related issues with the internet service started by Elon Musk's company.
"I literally can't reference one installation kit that we've installed, or we've had any kind of issue with extreme temperatures, weather, any issues like that," Brown said.