Images of 7 early-universe galaxies captured by James Webb Space Telescope
The seven galaxies were first identified by using data from the Hubble Space Telescope. Light from them took 13 billion years to reach Webb.
NASA released images Monday of a protocluster of seven galaxies, which help shed light on the formation of the early universe.
Light from the galaxies took about 13 billion years to reach Webb. Since the universe is about 13.7 billion years old, this means that Webb is seeing the galaxies as they were about 650 million years after the big bang.
The cluster is expected to grow in size and mass, resembling the Coma Cluster of galaxies, one of the densest known galaxy collections in the universe.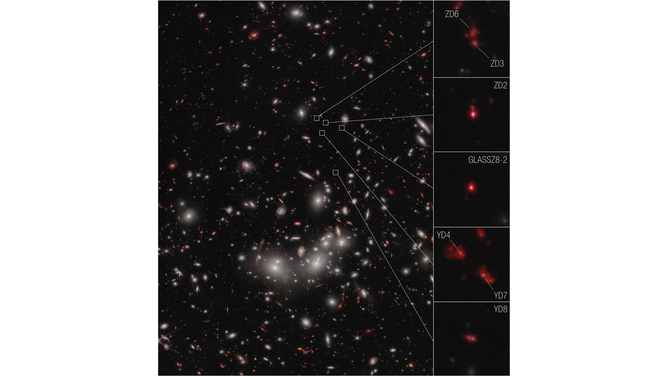 "This is a very special, unique site of accelerated galaxy evolution, and Webb gave us the unprecedented ability to measure the velocities of these seven galaxies and confidently confirm that they are bound together in a protocluster," said Takahiro Morishita of IPAC-California Institute of Technology, the lead author of the study published in the Astrophysical Journal Letters.
JAMES WEBB SPACE TELESCOPE CAPTURES RARELY SEEN VIEW OF SUPERNOVA START WITH EXPLOSION OF COSMIC DUST
According to NASA, galaxy clusters are the greatest concentrations of mass in the known universe – so much so that they can warp the fabric of spacetime. Called gravitational lensing, this warping has a magnifying effect on objects.
In fact, astronomers utilized the gravitational lensing caused by another galaxy cluster, Pandora's Cluster, to view the protocluster of seven galaxies more closely.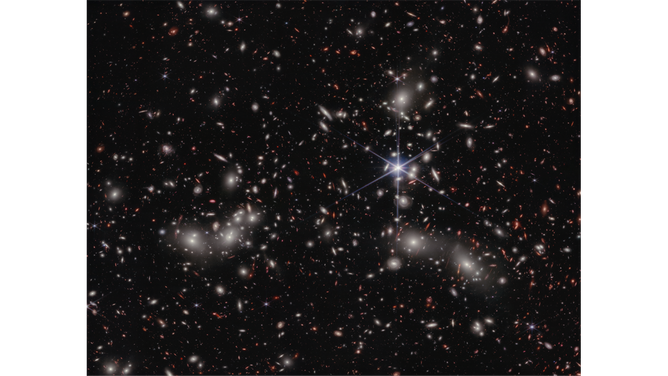 "With this small protocluster of seven galaxies, at this great distance, we had a one hundred percent spectroscopic confirmation rate, demonstrating the future potential for mapping dark matter and filling in the timeline of the universe's early development," said Tommaso Treu of the University of California, Los Angeles, a member of the protocluster research team.
NASA said the seven galaxies were first established as candidates for observation by using data from the Hubble Space Telescope's Frontier Field program, which dedicated Hubble time to observations using gravitational lensing.
Webb then continued the investigation by gathering spectroscopic data and imagery.