Florida dog helps sniff out snail species that could lead to meningitis outbreak
Mellon is one of four dogs in the Detector Dog Inspection Program stationed around Florida. He acts as the first line of defense in preventing unregulated or contaminated products from entering the state.
PASCO COUNTY, Fla. – Now that's a good boy! 
A mollusk-detecting dog in Florida is sniffing out a species of snail that could lead to meningitis outbreaks in humans.
HOW TO WATCH FOX WEATHER ON TV
State agriculture officials sounded the alarm last month about the giant African land snail after a master gardener reported the invasive species on June 23 in the New Port Richey area of Pasco County.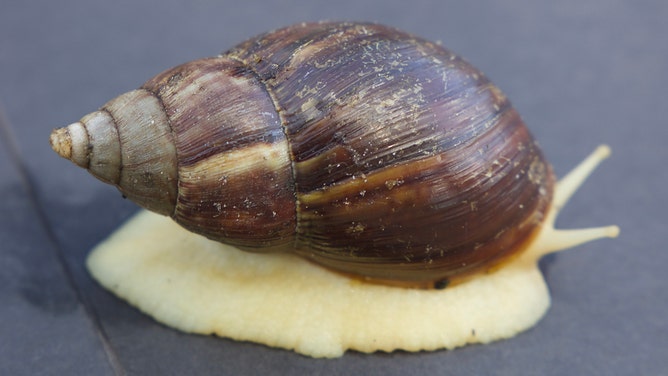 Mellon, a rescue Labrador trained specifically to detect the snail, is one of four dogs in the Detector Dog Inspection Program stationed around Florida, conducting inspections in approximately 80 parcel shipping facilities throughout the state. He has trainedon the new phenotype recently detected and now actively surveying for this pest, the Florida Department of Agriculture and Consumer Services said.
FROM SEAWEED TO SOIL: SOUTH FLORIDA BEACH TOWN FINDS A SOLUTION TO A STINKY PROBLEM
Before the recent detection in Pasco County, the last live giant African land snail in Florida was collected in Miami-Dade County in December 2017. They've been eradicated twice in the state. 
OF COURSE THIS RECORD-BREAKING FLORIDA PYTHON'S LAST MEAL WAS A DEER
Officials have already begun to survey the area and enacted a quarantine. They treat properties with a snail bait labeled by the U.S. Environmental Protection Agency for residential use. 
The bait, known as metaldehyde, works by disrupting the mucus production ability of snails and slugs. It reduces their digestion and mobility and makes them susceptible to dehydration. Snails and slugs that have eaten metaldehyde often seek hiding places become inactive and begin to die within days, the FDACS said.
PARASITIC WORMS FOUND ACROSS US PARKS PUT KIDS, PET OWNERS AT RISK
According to the FDACS, giant African land snails are one of the most damaging snails in the world and consume at least 500 different types of plants. They could also devastate the state's agriculture and natural areas as they cause extensive damage to tropical and subtropical environments. 
"The snails also pose a serious health risk to humans by carrying the parasite rat lungworm, known to cause meningitis in humans," the FDACS said.
IF DROUGHT-STRICKEN OREGON WASN'T ENOUGH, BIBLICAL DROVES OF GIANT INSECTS NOW PESTER FARMERS
These types of snails should never be handled without proper protection and sanitation. According to state officials, they are illegal to import or possess in the U.S. without a permit.
Florida Agriculture Commissioner Nikki Fried will update the public on the latest snail detection at 12:15 p.m. Eastern on Thursday from FDACS' Clearwater office that will be livestreamed on the department's Facebook page.
GET THE LATEST EPISODE OF THE FOX WEATHER UPDATE PODCAST
Be sure to download the FOX Weather app to track any storms in your area and receive potentially life-saving weather alerts issued by the National Weather Service. The free FOX Weather livestream is also available 24/7 on the website and app and on your favorite streaming platform. The FOX Weather Update podcast also provides weather information for the entire country.