Of course this record-breaking Florida python's last meal was a deer
It was the largest found to date in the state, measuring nearly 18 feet in length and weighing in at whopping 215 pounds
NAPLES, Fla. – This wasn't just a normal Burmese python found in southwest Florida. 
It was the largest found to date in the state, measuring nearly 18 feet in length and weighing in at whopping 215 pounds.
Finding her was a needle in a haystack, according to Ian Bartoszek, wildlife biologist and environmental science project manager for the Conservancy of Southwest Florida.
HOW TO WATCH FOX WEATHER ON TV
Bartoszek and his team discovered and captured the python at the Picayune Strand State Forest just outside of Naples in December 2021 through its nationally recognized research program, which uses radio transmitters implanted in male "scout" snakes to understand python movements, breeding behaviors and habitat use. 
Scout snakes can lead biologists to breeding aggregations and large, reproductive females, allowing researchers to remove breeding females and their developing eggs from the wild.
SNAKES ON THE MOVE: MATING SEASON AND WARMER WEATHER MAKE SERPENTS FRISKY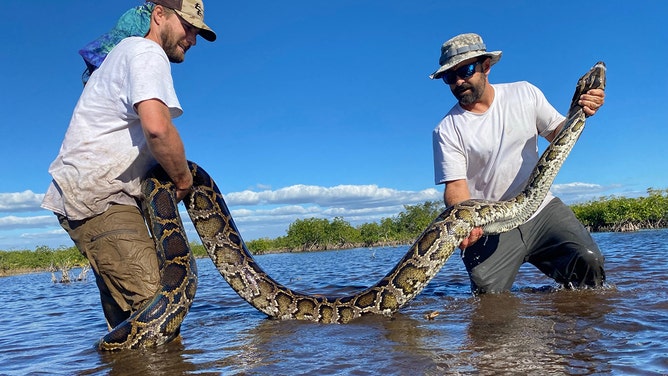 "You could use a magnet, and in a similar way, our male scout snakes are attracted to the biggest females around," Bartoszek said.
Biologists tracked a male scout snake named Dionysus, or Dion, to a region of the western Everglades that he frequented for several weeks. 
"We knew he was there for a reason, and the team found him with the largest female we have seen to date," Bartoszek said.
Another record-breaking discovery was the number of eggs carried by the snake. During the necropsy, researchers encountered 122 developing eggs within the snake's abdomen. An average clutch is about 43. This finding sets a new limit for the highest number of eggs a female python can potentially produce in a breeding cycle. 
SNAKE WRANGLER GOES VIRAL AFTER REMOVING 7-FOOT SNAKE FROM CALIFORNIA HOME
An assessment of the snake's digestive contents found hoof cores, determining an adult white-tailed deer – a primary food source of the endangered Florida panther – to be the snake's last meal, the Conservancy said.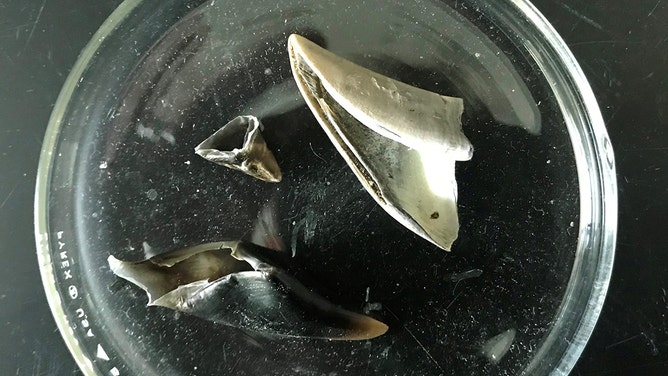 According to Bartoszek, there's a larger snake out there in the Everglades, but they just haven't found it yet.
"It'll come across everyone's radar screen sooner or later," he said. "But if they're getting to this size, what do you think it took to get to be this size? These are big game hunters."
The team has recorded dozens of observations of white-tailed deer found inside Burmese pythons during necropsies conducted in the lab.
The python's discovery highlights the continued impact of the invasive species, which is known for rapid reproduction and depletion of surrounding native wildlife.
HUNT SNAKES, WIN CASH: FLORIDA PYTHON CHALLENGE WORKS TOWARD EVERGLADES RESTORATION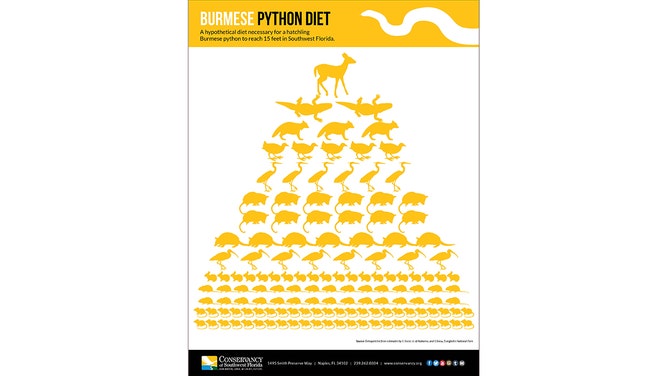 "The removal of female pythons plays a critical role in disrupting the breeding cycle of these apex predators that are wreaking havoc on the Everglades ecosystem and taking food sources from other native species," Bartoszek added. "This is the wildlife issue of our time for southern Florida."
Since established in 2013, the Conservancy's python program has removed over 1,000 pythons weighing more than 26,000 pounds of adult pythons from approximately 100 square miles in southwestern Florida.
CLICK HERE TO GET THE FOX WEATHER UPDATE PODCAST
Track the temperatures in your area with the FOX Weather app. The free FOX Weather livestream is also available 24/7 on the website and app and on your favorite streaming platform. The FOX Weather Update podcast also provides weather information for the entire country.