Watch: French sailor survives 16 hours in overturned boat
The Spanish Coast Guard was stunned to find the man still alive in the rough seas after his boat capsized.
After 16 hours in a capsized boat, rescuers were able to pull a 62-year-old man out alive. The Spanish Coast Guard says his specialty sailing suit and a pocket of air trapped under the overturned ship saved the Frenchman.
The Spanish Coast Guard received an emergency radio alert around 8:30 p.m. Monday from the boat, 14 miles off the coast of Galicia, Spain. It took a rescue helicopter an hour to locate the boat, which was upside down.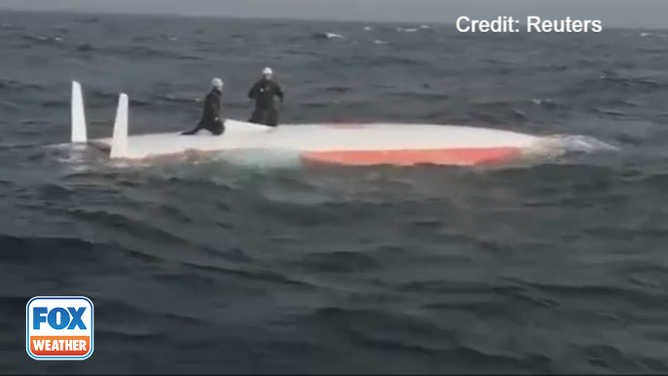 A diver repelled down to the boat's hull at sunset and started banging on the ship to check for signs of life. The relieved diver got knocks back. The solo sailor was alive and responsive.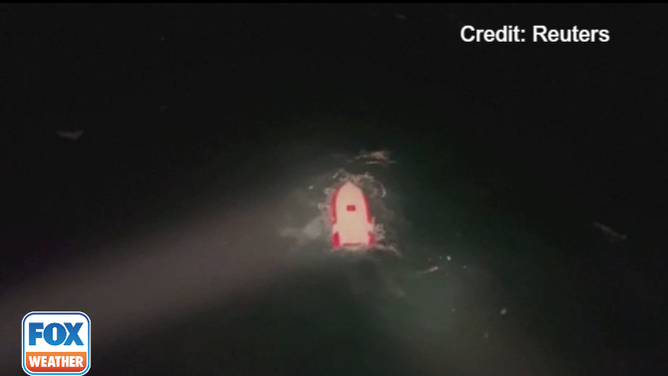 Unfortunately, rough seas and lack of light prevented an initial rescue. The man sat in the dark cabin of his upside-down boat. He was partially submerged in 68-degree Atlantic seawater and dependent on a bubble of air trapped between the water's surface and the bottom of his boat to breathe.
He wore a wetsuit, used by competitive sailors, allowing water through, but the suit's fabric traps a thin layer of water between the skin and the suit. Our bodies heat the thin layer to provide warmth and insulate a person from the frigid seawater. 
WATCH: AIR RESCUE OF A MAN TRYING TO SAVE A DOG FROM THE LA RIVER
According to the CDC, water robs bodies of heat 25 times faster than air, leading to hypothermia. Without the wetsuit, he could have lost dexterity in his hands in 40 minutes, and survival time, the University of Minnesota, Duluth estimates, is only 4-17 hours. With his suit, survival estimates are 22 to 36 hours.
It took five divers and three helicopters to attach weighted balloons to the capsized boat. The three balloons, weighing about 11,000 pounds each, stopped the ship from drifting and helped to refloat it. 
WATCH: COAST GUARD RESCUES 7 AFTER LIGHTNING HITS BOAT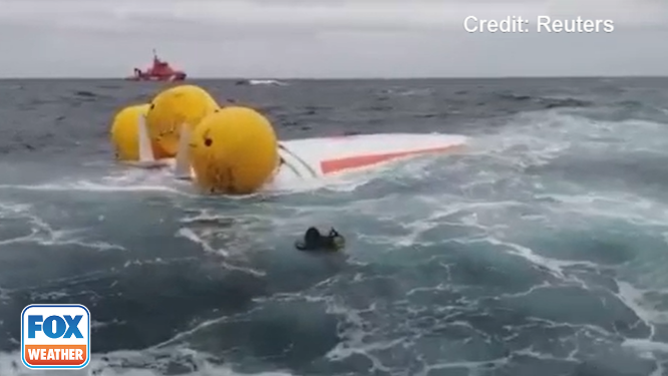 Finally, two divers could dive under the boat almost 16 hours later. They found the cabin door open and the chilly boater alive. 
OFFICERS FALL THROUGH ICE WHILE ATTEMPTING TO RESCUE TEENS
He was plucked from the water by helicopter and transported to a hospital.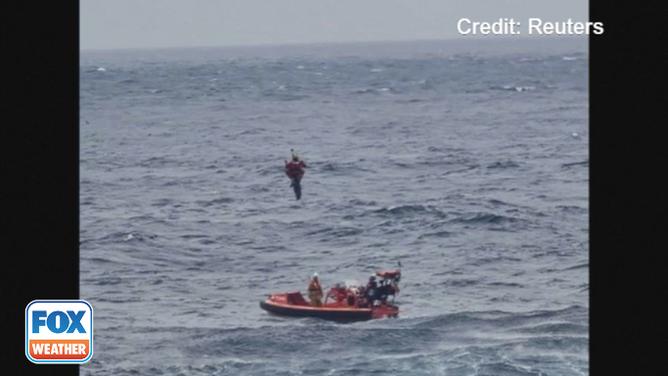 Track the temperatures and storms in your area with the FOX Weather app. The free FOX Weather livestream is also available 24/7 on the website and app and on your favorite streaming platform. The FOX Weather Update podcast also provides weather information for the entire country.