Forecast improves for Blue Origin's Texas launch with 6 people
New Shepard to launch at 8:45 a.m. CT Saturday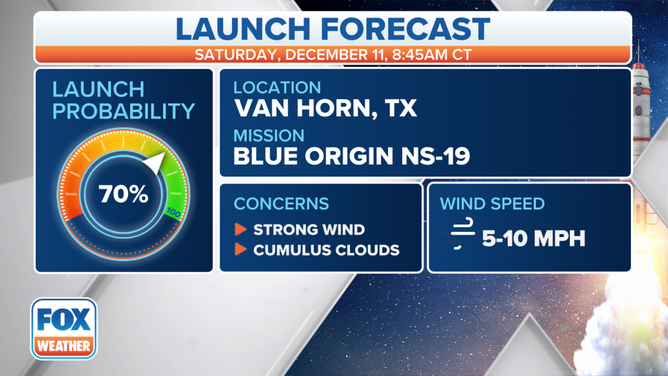 VAN HORN, Texas – Windy conditions shouldn't prevent Blue Origin from launching six people to the edge of space Saturday morning from the company's Texas launch site.
After delaying the New Shepard 19 (NS-19) rocket launch from Thursday to Saturday due to the high winds forecast in the area, the backup launch window appears more favorable for an on-time liftoff.
Four paying customers and two honorary guests will liftoff in Blue Origin's reusable rocket at 8:45 a.m. CT. 
It will be a sunny but cold start on Saturday in Van Horn, Texas, with a low of 34 degrees. Winds are expected to be between 5 and 10 mph. Cloud cover and winds are possible weather concerns that could delay the launch.
FOX Weather meteorologists give the launch a 70% chance that weather does not delay liftoff.
This time around, there will be a full manifest on New Shepard with six passengers, including Laura Churchley Shepard, the daughter of NASA astronaut Alan Shepard. The rocket was named after the first American in space.
MORE: Alan Shepard's daughter ready to blast off with Blue Origin carrying on his legacy
Along with Churchley Shepard, journalist and Super Bowl Champion Michael Strahan is also a guest on the flight. Father and child, Lane and Cameron Bass; engineer and investor Evan Dick; and Voyager Space CEO Dylan Taylor are all paying customers of the space tourism company.
NS-19 will mark the company's third human spaceflight since July when founder Jeff Bezos and three others became the first.
The fully automated New Shepard flight takes less than 11 minutes from launch to landing. The crew capsule will reach about 66 miles above Earth, surpassing the boundary of space, providing a few minutes of weightlessness to the passengers.