Florida's Space Coast ready to welcome 100,000 to witness NASA's Artemis 1 moon launch
Artemis-1 launch viewers should plan ahead and expect crowds for the historic launch. Space Coast tourism officials recommend booking reservations now if you plan to stay closest to the beaches or Kennedy Space Center.
BREVARD COUNTY, Fla. – Florida's Space Coast is buzzing about NASA's new mega moon rocket set to launch later this month, drawing potentially 100,000 visitors to see the historic maiden voyage.
NASA is targeting Aug. 29 at 8:33 a.m. to launch the Space Launch System rocket and Orion spacecraft from Kennedy Space Center on the Artemis-1 test flight around the moon.
HOW TO WATCH FOX WEATHER ON TV

For Central Florida residents, it's a weekly occurrence to step outside and see a rocket launch from SpaceX or United Launch Alliance. Officials with Florida's Space Coast Office of Tourism expect more than 100,000 people to travel to watch the SLS lift off for the first time.

"This is a significant step in a process to get us back to the moon," Florida's Space Coast Office of Tourism Director Peter Cranis said. "These rockets are big. It's going to be noisy. It's going to shake the ground. It's going to shake the windows. So this is reminiscent of those old days back in like the Apollo era when those large rockets would go up."
If the Artemis 1 launch shifts to Labor Day on Monday, Sept. 5, tourism officials say that number could increase to more than 200,000 visitors.
NASA IS LESS THAN A MONTH FROM LAUNCHING ITS 'MONSTER' MOON ROCKET
With 8.8 million pounds of thrust, the rumble of NASA's moon rocket will be felt and heard across the region. After the shuttle program ended in 2011, it took years to get back to the launch cadence happening now. Between Kennedy Space Center and Cape Canaveral Space Force Base, the sites are on track to exceed more than 50 launches this year.
"Everybody is just one or two steps removed from the space program. We all have family members, or we know people that work somewhere, you know, for some contractor somewhere," Cranis said. "A lot of people that live here have some connection to the program."
Brevard County has been defined by the space program, starting with Apollo and then again at the end of the space shuttle program.
"We were a sleepy little beach town. And Apollo came along and just converted it into this amazing tourism destination. And that's kind of grown and shrunk over the years," Cranis said." Of course, after the shuttle program left, you know, there were some lean years. So now we're back."
The Space Coast has changed again in the past decade, welcoming new restaurants, more cruise ships, hotels and businesses.
FLORIDA, EH? WHY SNOWBIRDS IN CANADA LOVE HEADING SOUTH
Hotel inventory has increased by about 1,500 hotel rooms, and about 2,000 additional rooms will be built in the next few years, according to Cranis, who estimates those hotel rooms will be needed before NASA plans to launch Artemis-3 in 2025, sending humans back to the surface of the moon.
Regarding launch tourism, the attendance expected for Artemis 1 is on par with the first astronaut launch in nearly a decade from Florida when SpaceX launched NASA astronauts Bob Behnken and Doug Hurley to the International Space Station. More than 200,000 people flocked to Brevard County to see the first American launch from Florida since 2011.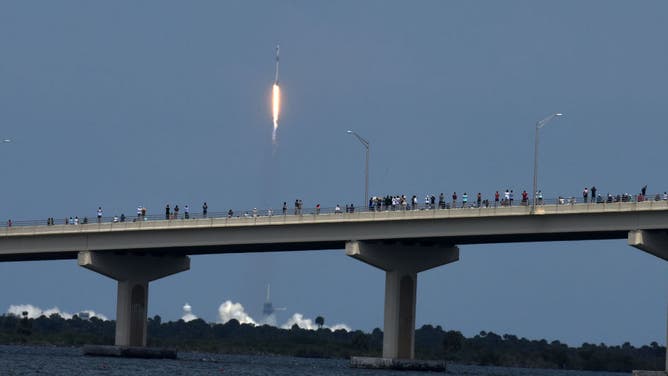 NASA estimated about 700,000 to 1 million people came to watch the final space shuttle mission on July 8, 2011.
"There's a lot of new elements and new things to do and see here. So I think it'll be fun for people that maybe came during the shuttle period," Cranis said. "And now here ten, 15 years later, they're going to come back and see a great launch experience."
Launch viewing tickets selling fast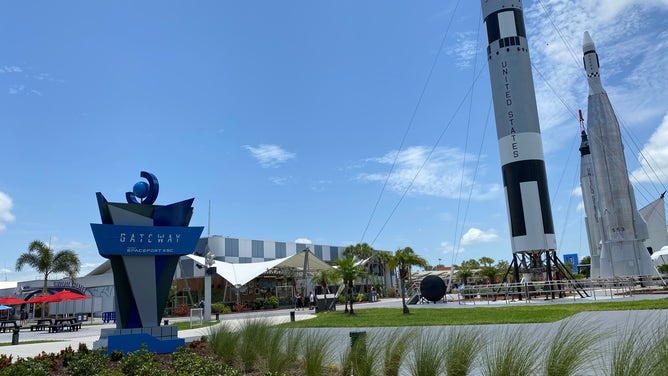 The Kennedy Space Center Visitor Complex just outside the gates of KSC offers several Artemis-1 launch viewing packages that include multiple days of events, tickets to the park, and a guaranteed view of the liftoff.
"You have an amazing view no matter where you are when you're at Kennedy Space Center because we are one of the absolute closest places that you can be to watch a launch at Kennedy Space Center," said Howard Schwartz, KSC Visitor Complex senior director of marketing, sales and education.
The "Feel the heat" and "Feel the fun" packages sold out within three days. General admission tickets are still available online, but Schwartz recommends people scoop those up before they are gone. He also suggests if you plan to watch the launch at KSC, get there early.
On Aug. 29, the KSC Visitor Complex gates will open at 3:30 a.m. The two-hour launch window opens at 8:33 a.m.
"We're anticipating large crowds, and we want to make sure everybody does get here and gets a great place to view the launch," he said. "We are opening up early enough to make sure that everybody can get in, and we'll be ready for the crowds."
To accommodate the demand around the liftoff, the KSC Artemis launch event starts three days before liftoff.
SUMMER'S HOMESTRETCH: AUGUST WEATHER OUTLOOK
On top of the grand launch views, the KSC Visitor Complex recently opened its newest experience, Gateway: The Deep Space Launch Complex. The new attraction features interactive exhibits, flown hardware and "Spaceport KSC" where riders can choose four different space journeys.
"We've done a great job historically of showing everything that NASA has done and where they've come to, but now Gateway is really taking guests on the journey of what's happening now within the space industry and where it's going to go in the future," Schwartz said.
Water, sunscreen and a plan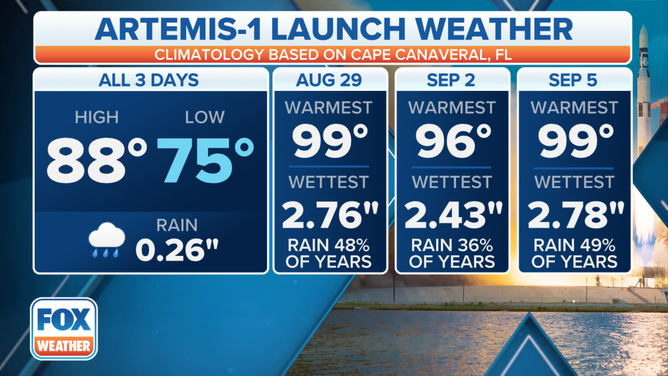 August is historically Florida's hottest month of the year. NASA is targeting three launch dates for the first Artemis 1 launch attempt, and the first is on Aug. 29.
Sept. 2 and Sept. 5 are backup launch dates but could become primary launch windows if the weather or technical issues get in the way.
Climatology data for Cape Canaveral shows an average of 88 degrees on all three possible launch dates and less than a 50% chance of rain. 
The two-hour launch window on Aug. 29 opens at 8:33 a.m. On an average August day, it's likely to be above 80 degrees by the time the final hours of the countdown are underway. If you are watching from the beach, along the river, on a balcony or a rooftop, you'll want to have plenty of sunscreen and water on hand.
Almost anywhere along the coastline north of Patrick Space Force Base will offer a clear view of the SLS rumbling away from Earth. 
There are still hotel rooms and plenty of rentals available across the Space Coast, but Cranis says if you plan to stay, don't wait much longer to make a reservation.
"Hotels are starting to fill up. I think there's a lot of the beachside hotels are probably already at capacity, you know, but the good news is we have a lot of new hotel inventory in our community," Cranis said.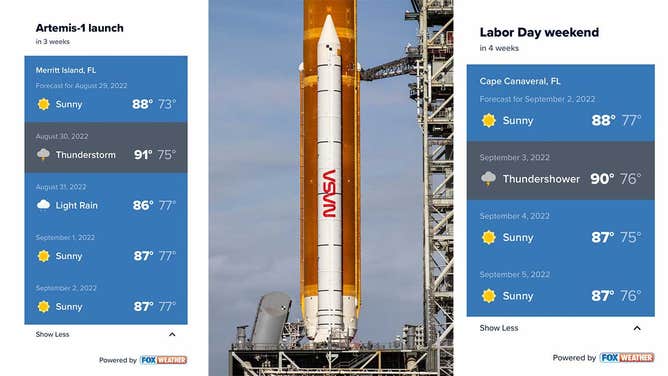 Traffic in and out of State Road 528 (the Beachline) will also be a concern on launch day. People driving up from South Florida or even over from Orlando for the day should bring extra snacks, and water and fill up on gas. 
If you plan to visit the Space Coast through Labor Day weekend in hopes of seeing the launch, download the FOX Weather app and use the "Plan" tab to get updated forecasts for your trip.
CLICK HERE TO GET THE FOX WEATHER UPDATE PODCAST
Be sure to download the FOX Weather app to track any storms in your area and receive potentially life-saving weather alerts issued by the National Weather Service. The free FOX Weather livestream is also available 24/7 on the website and app and on your favorite streaming platform. The FOX Weather Update podcast also provides weather information for the entire country.