NASA is less than a month from launching its 'monster' moon rocket
Artemis 1 moon launch date and time are set for Aug. 29 at 8:33 a.m.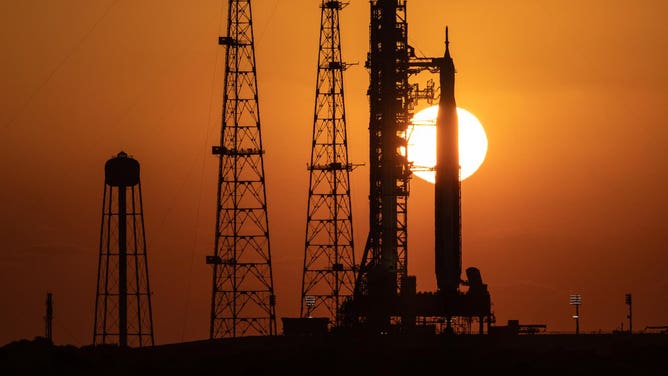 NASA is moving ahead with a late August launch of its giant moon rocket as part of the Artemis 1 mission, the first significant step toward human lunar exploration in nearly half a century.
NASA plans to roll out the SLS and Orion to launchpad 39B at Kennedy Space Center in Florida on Aug. 18, setting up for an Aug. 29 liftoff during a 2-hour window opening at 8:33 a.m. ET. 
NASA Administrator Bill Nelson said SLS is the most powerful rocket ever built, even above the power of the Saturn V rocket that powered the last human moon landings.
Nelson said KSC's historic launchpad 39B is no stranger to "monster rockets." Saturn V launched the Apollo missions with 7.6 million pounds of thrust.
"This baby's going to be 8.8 (million)," Nelson said of SLS.
HOW TO WATCH FOX WEATHER ON TV
No astronauts will be on the maiden voyage of SLS or Orion, an option that wasn't available during the space shuttle program test days. Three manikins will be riding Orion equipped with sensors and testing potential radiation impacts for a future human crew.
"This is a test flight," Nelson underscored Wednesday on a media call. "It's just the beginning. We've learned a lot over the years. We've learned a lot that we're going to be able to apply in the coming years."
After a 42-day mission and orbiting the moon, Orion will return to Earth, slamming into the atmosphere at 25,000 mph, putting its massive heat shield to the test and landing in the Pacific Ocean on Oct. 10.
What NASA now calls the Artemis program has undergone administrative changes, technical challenges and budgetary constraints spanning three White House Administrations. NASA's return to the moon for the first time since Apollo 17 has already been decades in the making, with plans underway even before the space shuttle program ended in 2011.
Artemis 1 mission manager Mike Sarafin explained that the spacecraft and rocket would be tested under different criteria, taking more risks than if humans were onboard. 
WATCH LIGHTNING STRIKE NEAR A MASSIVE SPACE ROCKET IN FLORIDA
"We have a lean forward strategy on Artemis 1 because it is an uncrewed test flight. We are deliberately leaning forward in the interest of getting our priority one objective, which is demonstrating the heat shield at lunar reentry conditions, leaning forward to get through the point of trans lunar injection," Sarafin said. "So if you're looking at relative comparison to 'go-no' go criteria for later crewed missions, we will be 'go' for failures on Artemis 1 that we would normally be no go for on Artemis 2 on a crewed mission in the interest of crew safety."
There will be scientific experiments and research payloads flying on Orion from U.S. universities, NASA and international partners.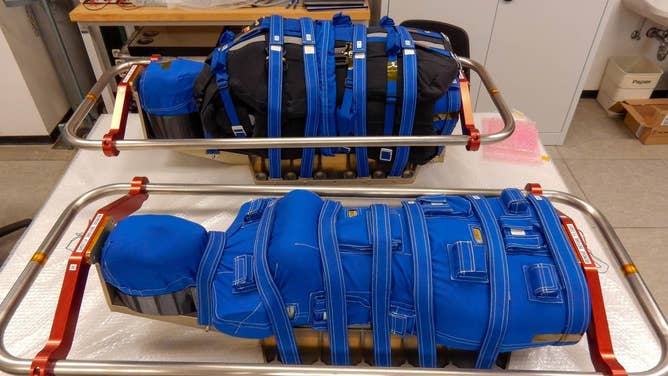 Two of the "female" manikins on Orion will be wearing radiation protection vests as part of a study on the effects of radiation on humans outside low-Earth orbit or LEO, according to NASA's associate administrator for technology, policy and strategy Bhavya Lal.
"As a card-carrying nuclear engineer, I can personally attest that radiation is one of the top challenges for human exploration beyond LEO," Lal said. "Which is why there is such a focus on understanding the radiation environment, too, and on the moon at the moment."
Ten CubeSats, or small satellites, will also launch on SLS designed to further a variety of research goals inclining studying space weather and taking high-resolution imagery of Earth and the moon. 
A voice-activated computer called Callisto will also be tested during the Artemis 1 flight. 
"The crew of 'Star Trek' was always conversing with the ship's computer that was answering back," Lal said. "Well, the crew of the Artemis may be talking to the ship's computers as well."
Artemis 1 Launch Director Charlie Blackwell-Thompson said the rocket and spacecraft are undergoing final preparations inside the KSC's Vehicle Assembly Building, where SLS has been since completing a wet dress rehearsal test in June out at the launchpad. 
Backup launch windows are available on Sept. 2 and Sept. 5. Blackwell-Thompson said SLS could make two launch attempts within 20 days.
Space Coast expecting 100,000 launch viewers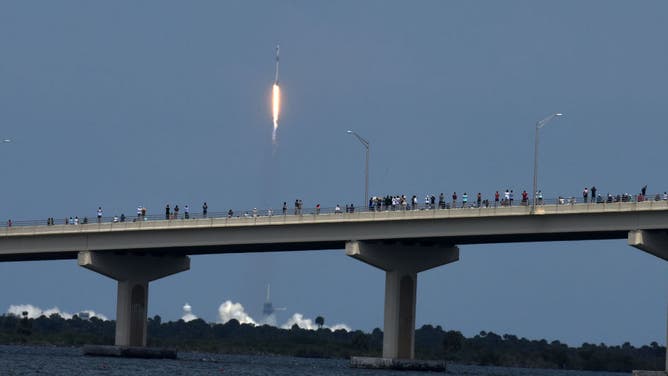 Hotels, businesses and the communities along Florida's Space Coast are preparing for thousands of visitors eager to see the SLS blast off.
Officials with Florida's Space Coast Office of Tourism expect more than 100,000 people to travel to watch the liftoff.
If the launch shifts to Labor Day on Monday, Sept. 5, tourism officials say, that number could increase to more than 200,000 visitors.
As far as launch tourism, those numbers are about on par with the first astronaut launch in nearly a decade from Florida when SpaceX launched NASA astronauts Bob Behnken and Doug Hurley to the International Space Station in 2020, which also happened amid the global coronavirus pandemic when people were encouraged to stay home.
JAMES WEBB SPACE TELESCOPE IMAGES WOW BY SHOWING STAR NURSERY, GALAXIES IN A COSMIC DANCE
NASA estimated about 700,000 to 1 million people came to watch astronauts launch from KSC on the final space shuttle on July 8, 2011. 
Nelson recalled that even years after the shuttle program ended, he was told by a stranger, "'Oh, I'm so sorry that our space program is over,' because they associated the space program with astronauts going into space."
The administrator said the recent success of the James Webb Space Telescope had gotten people excited about space exploration again, and he expects that to grow with the subsequent Artemis launches. By 2025, NASA plans to land humans on the moon as part of the Artemis 3 mission.
"When the first woman and the next man land on the moon in Artemis 3, I rather suspect that's going to be a page one story," Nelson said. "And the American people will be back understanding what's happening."
CLICK HERE TO GET THE FOX WEATHER UPDATE PODCAST
Be sure to download the FOX Weather app to track any storms in your area and receive potentially life-saving weather alerts issued by the National Weather Service. The free FOX Weather livestream is also available 24/7 on the website and app and on your favorite streaming platform. The FOX Weather Update podcast also provides weather information for the entire country.