Florida poultry farm loses almost everything, again, to hurricane
The free-range chicken farm leveled by Hurricane Irma was devastated by Hurricane Ian just a few years later.
FELDA, Fla. – Nicole Cruz picks up the pieces of her devastated Circle C Farm, again. Category 4, Hurricane Ian blew through September 28th demolishing the free-range farm. But Cruz is no stranger to rebuilding after hurricanes. This southwest Florida farmer and her family lost everything to Hurricane Irma just 5 years ago.
"We had two main egg houses and we are 100% pasture raised farm… So all of our livestock lives outside 24/7," Cruz described her farm during Ian. "So we're at the mercy of everything around us. And when those 90 and 100 mile an hour winds came, it just lifted one set of our houses and literally just rolled it into an aluminum tin pan. It's what I call the shock and awe, it's pretty intense."
SEE THE DEVASTATING SCALE OF IAN'S DESTRUCTION IN FLORIDA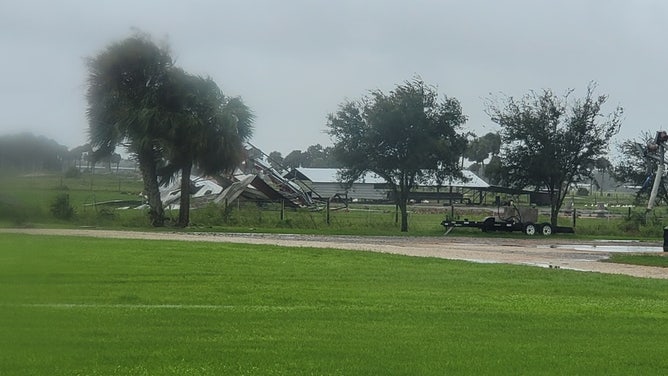 She lost over 2,000 birds, more than half the egg layers.
"That death is never what a farmer wants to see," she said. "It put us in the position in which our egg production was cut in half, which is definitely a negative for our community."
 Just under 2,000 survived, but they stopped laying eggs initially.
'HELP US': SHRIMPING BOATS SIT IDLE IN FORT MYERS AFTER SUFFERING HURRICANE IAN'S WRATH
"And it's taken this many weeks for them to get over it, for the ones that are still with us," she said about the traumatized livestock. "Its taken now three and a half, almost four weeks for our laying hens that did survive the impact to start laying again."
While losing half of the egg laying hens struck a major blow to her farm and family, it could have been worse Cruz said. The farm was better prepared for Ian after learning lessons from Irma. So the damage was not as extensive to the property or the animals. Eggs were her only product when Circle C started in 2015.
THE ERA OF THE GULF: IAN JOINS LIST OF 5 OTHER DESTRUCTIVE HURRICANES IN RECENT YEARS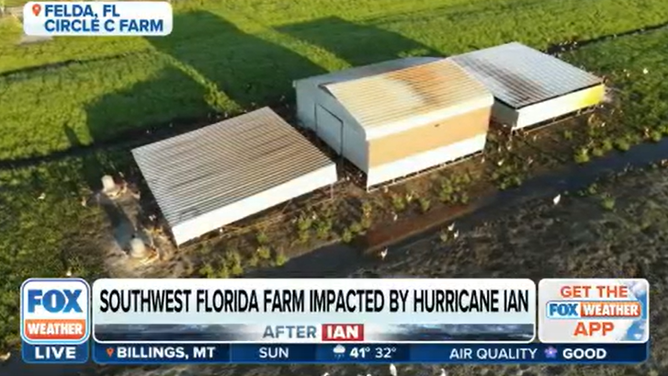 "Hurricane Irma, it leveled us completely and we had to start over with all of our poultry production," she recalled. "Not just our laying hens, but our meat chickens as well."
FLESH-EATING BACTERIA THREATENS FLORIDA FOLLOWING HURRICANE IAN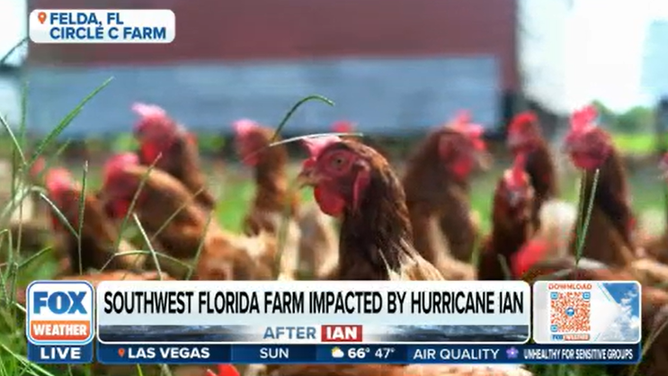 Cruz said it has been an, "interesting year." As the Avian flu has been wiping out turkey yields and spreading the disease to other birds, the farm had to make a tough decision. They chose not to raise turkeys this year which seemed like a financial loss at the time. 
"Had we done that, we actually would have lost all of our turkeys to Hurricane Ian." Cruz remarked, thankfully. 
HOW TO WATCH FOX WEATHER ON TV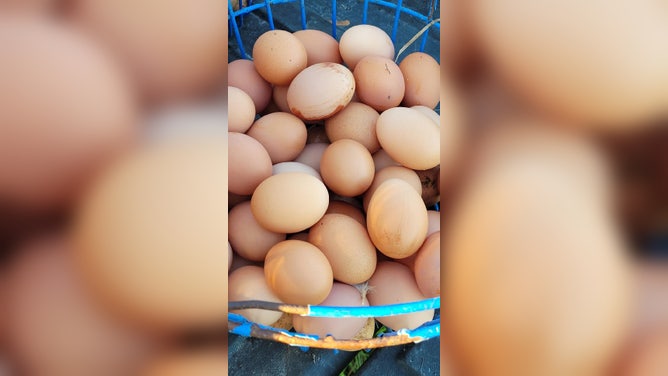 Circle C Farm is working hard to ramp up production after the loss to Hurricane Ian. Cruz wants to make sure her community customers and the customers outside of Florida that she ships to weekly will be well supplied.
"We have a great team so we have been able to move ourselves forward but the impact and the loss is something that takes months to recover from," Cruz said.