Florida's sea turtle season begins but some nests already dot the landscape
Nests in Delray Beach and Flagler County have already been reported so far in 2023. The Florida Fish and Wildlife Conservation Commission warns bright lights from nearby buildings can cause animals to become disoriented and warns property owners from interfering with the marine animals.
Right on cue and even a bit early on some beaches, the 2023 sea turtle nesting season is already underway in Florida, with the spotting of at least two nests before the annual March 1 start.
Local conservation groups in both Delray Beach and Flagler County report finding nests in recent weeks that are thought to be from leatherback turtles.
The nests are the first reports of what could be a long season for the Florida coast, with thousands of nests that usually appear from spring through the fall.
The conventional start of the season varies by region, with the Northeast and Gulf coasts typically far behind Central and South Florida.
The Florida Fish and Wildlife Conservation Commission says loggerheads, green turtles and leatherbacks make up the majority of the nests seen around the state, but occasionally species such as Kemp's ridleys and hawksbill can also be spotted.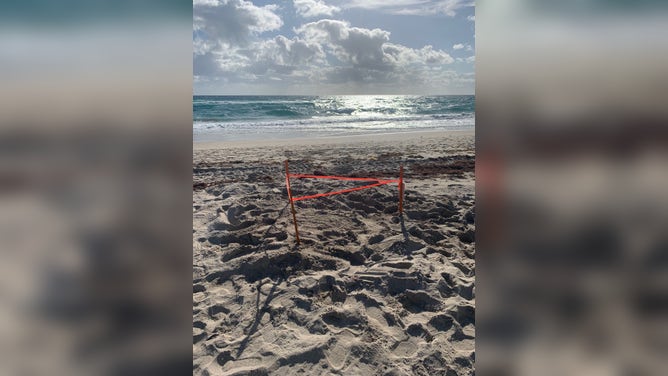 BOTTLE FULL OF MESSAGES WASHES ASHORE ON A FLORIDA BEACH
The FWC reports an average of over 106,000 are sighted annually on beaches monitored around the state.
Depending on the species, incubation can last as short as several weeks but often lasts about two months.
The annual nesting season coincides with the normally busy spring break and summer travel but also can be distributed by the hurricane season, which starts on June 1.
Beaches were littered in 2022 by what witnesses believed were thousands of destroyed eggs after Category 4 Ian clobbered the state with damaging winds and waves.
FLORIDA'S MANATEE DEATH TOLL FALLS SHORT OF RECORD LEVELS BUT REMAINS ALARMINGLY HIGH
Even though all five species are considered to be either endangered or threatened, coastal communities have enacted ordinances to keep human interactions at a minimum.
Starting March 1, communities such as Palm Beach, Hollywood and others require beachfront properties to ensure exterior lights are not visible from the sand, where either mothers or hatchlings could be disoriented and head away from the ocean.
"Interfering with a sea turtle hatchling's trek to the ocean can have fatal consequences," Dr. Robbin Trindell, an FWC sea turtle biologist, previously stated. "It's very important to leave them undisturbed. By keeping beaches dark, beachfront buildings dark and giving sea turtles space, we can make sure that our children and grandchildren can also enjoy watching them make this amazing journey."
The wildlife agency also reminds beachgoers to pick up trash, remove furniture and fill in any holes dug in the sand at the end of the day. Any foreign objects can unintentionally lead to turtles becoming trapped.