Bottle full of messages washes ashore on a Florida beach
Florida's east coast was impacted by Hurricanes Ian and Nicole in 2022, but because of how clean the bottle looked, it is not believed to have been in the water for long.
BEVERLY BEACH, Fla. – A Tuesday morning stroll along the sand of Flagler Country turned up rare a find that Ted Horton will never forget.
The Beverly Beach resident was walking with Bodie, his Golden Retriever, when they came across an olive oil-sized bottle in the sand.
"I've found lots of shells and sand dollars and stuff like that but not anything like this," Horton told FOX Weather.
The bottle appeared to be in excellent shape with no signs of barnacles or wear-and-tear, but visible through the glass were pieces of paper with apparent messages.
Due to its apparent recent voyage, Horton quickly ruled it out as being any type of leftover debris for Hurricanes Ian or Nicole.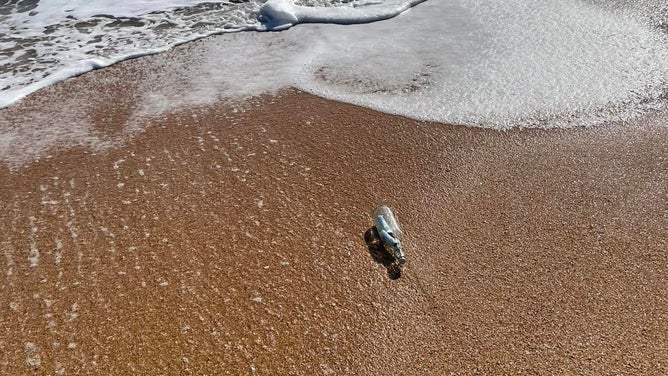 HURRICANE NICOLE UNEARTHS HUMAN REMAINS ALONG FLORIDA'S TREASURE COAST
Horton took the bottle home, where he said he spent an hour carefully trying to remove the messages without damaging the paper or the glass bottle.
Each message was written on a piece of notepad paper with the logo of The Ritz-Carlton.
Horton said none of the messages were dated, and there weren't any signs that pointed to which of the many Florida resorts the notepad originated from.
After reading each of the messages, Horton returned all to the bottle and added his own note as to where he found it and the date. 
"They made a movie about this a long time ago. It was a good movie. My wife just reminded me of the name - 'Message in a Bottle,'" said Horton.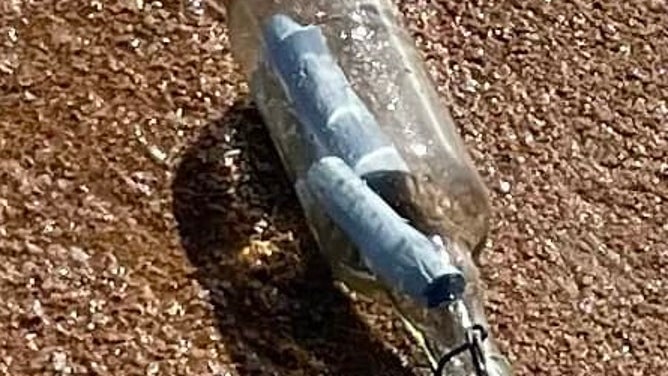 HISTORICAL TRUNK WASHES ASHORE ON FLORIDA BEACH AFTER HURRICANE NICOLE
Horton originally planned to release the bottle not far from the Flagler Beach fishing pier but figured that ocean currents would not pull the bottle out to sea, so he devised a plan with the help of his neighbor for a better return.
"He goes out pretty regularly on his boat, so I've got it sitting in my garage right now waiting for him to take it out. And he is going to take it with him and throw it in and mark the GPS coordinates," said Horton.
As for what the messages were on the papers, Horton is keeping them a secret, as he believes that is what the original senders would have wanted him to do.
He believes the messages were written by a father, mother and two sisters and were addressed to a loved one who had recently passed away.