Florida company provides unique, eco-friendly way to keep marine life alive after you die
Rising ocean temperatures have led to the loss of 15% of the world's corals, that's where Eternal Reefs comes in
A nonprofit in Florida has a unique, eco-friendly way to restore coral reefs while simultaneously providing an eternal resting place to those whose final wish is to use their remains to benefit marine habitats impacted by climate change.
HOW TO WATCH FOX WEATHER ON TV
Climate change has led to issues worldwide, including oceans, where rising temperatures have resulted in the loss of coral.
According to a 2020 report, corals can be found in more than 100 countries. And while they cover only 0.2% of the ocean's floor, they support at least 25% of marine life. However, rising ocean temperatures have led to the loss of 14% of global corals.
That's where Florida-based Eternal Reefs comes in.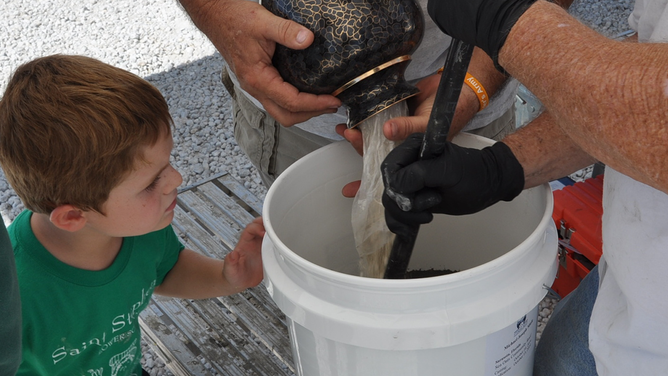 The company creates a reef ball with the cremated remains of a person (or pet) and drops them to the ocean floor to provide marine life with a new ecosystem. 
The idea was years in the making.
WORLD URGED TO SPEED UP EFFORTS TO ADDRESS CLIMATE CHANGE IN LATEST UN REPORT
Todd Barber and Don Brawley were college roommates at the University of Georgia in the late 1980s and routinely went scuba diving off the Florida Keys. When they did, they noticed the local reefs were deteriorating.
After college, they decided to come up with a way to create a material that would replicate the natural environment that supports coral development and came up with the idea of a reef ball.
But it wasn't that easy.
They faced challenges coming up with the design. They needed to create a design that would naturally attract marine life, withstand tidal movement and current flows, and also be able to stay put during a major storm.
It also needed to be environmentally friendly.
They eventually came up with the design, and in 1992, the Reef Ball Development Group and Reef Ball Foundation completed the first project off the coast of Ft. Lauderdale.
Then in 1998, Brawley's father-in-law discussed having his cremated remains put into a reef and died shortly after making that request.
Brawley mixed his father-in-law's cremated remains into the reef ball concrete, and it was placed on the ocean floor off Sarasota, Florida that May.
LOOKING TO GO GREEN WHEN IT'S YOUR TIME TO GO?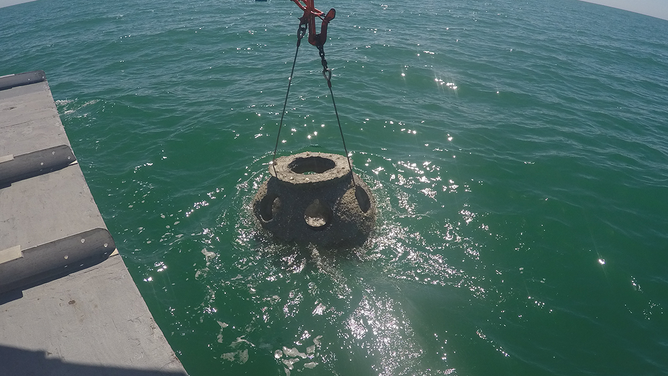 Reef balls are round and hollow, and 80% of their weight is located in the lower quarter of the reef, making them stable underwater.
They're made of a specialized concrete mixture that brings the pH content of the reef ball close to neutral. That, combined with the textured outer surface, allows microorganisms to land, burrow and mature.
Fish also migrate to the reef balls when they're placed on the ocean floor, and depending on conditions in the water, reefs could start growing within a few weeks.
Over time, the reef balls mature and will continue developing to support marine life forever.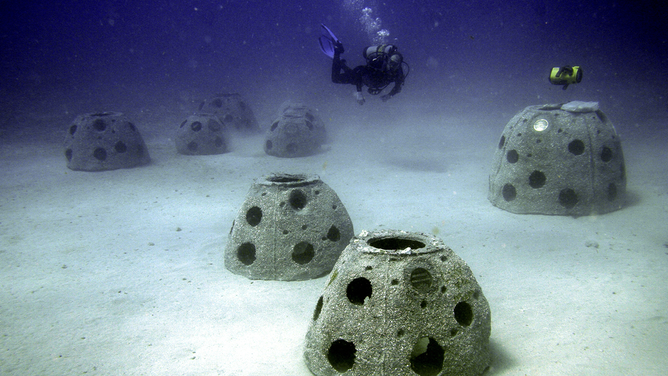 The process of creating an Eternal Reef takes a few days, and families and friends are encouraged to participate, but it's not required.
Eternal Reefs will bring a pre-cast reef ball to a casting site where families and friends have the opportunity to mix their loved one's remains into the concrete to create what's called a pearl. At that point, the pearl is placed into the reef ball, and another layer of concrete is poured on top, where it can then be decorated and personalized by family members.
It then takes an additional day for workers to finish preparing the reef ball.
On the third day of the process, families and friends are invited back to the casting site, where photos can be taken and rubbings can be made while final goodbyes are said.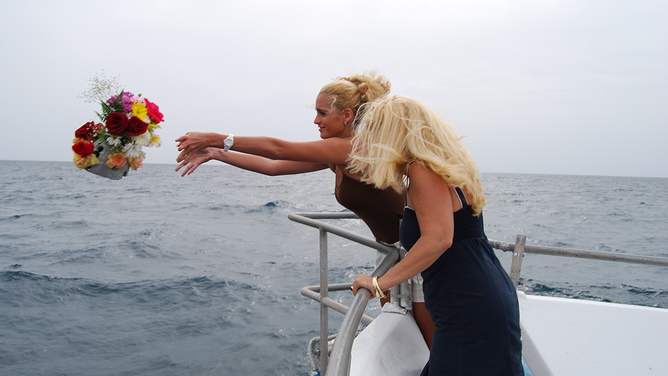 The fourth day is for the placement of the reef ball on the ocean floor. Family members board a boat that heads to the Eternal Reef site. The boat is then positioned, and each Eternal Reef is prepared to be lowered beneath the water.
As each reef is placed, the individual's name is announced, and family members can watch as it's lowered to the ocean floor to its final resting place.
The somber ceremony ends with a reading from President John F. Kennedy's speech "The Sea" before the boat's horn sounds three times in tribute and then heads back to the dock where families disembark.