Rare flamingo sightings across US likely a result of impacts of Hurricane Idalia, experts say
It is believed Hurricane Idalia in August disturbed the birds in the Caribbean and Gulf of Mexico and helped spread them from Florida and beyond. Lake goers in Port Washington, Wisconsin, recently came across the most recent sighting of flamingos.
Flamingo sightings from Wisconsin to Florida have animal watchers buzzing, but according to experts, there is a logical explanation – Hurricane Idalia likely disturbed the birds in the southern latitudes, forcing them northward.
The American Birding Association has seen dozens of reports of the pink-colored species and said it is not unusual for a disaster such as a hurricane to interrupt flocks and migration patterns.
Hurricane Idalia formed in August in the Caribbean before impacting Florida and other states in the Southeast.
Most of the sightings since the major hurricane made landfall have been in the Sunshine State, but the birds have been spotted as far west as Texas and north as Wisconsin.
FLAMINGOS BLOWN OFF COURSE BY HURRICANE IDALIA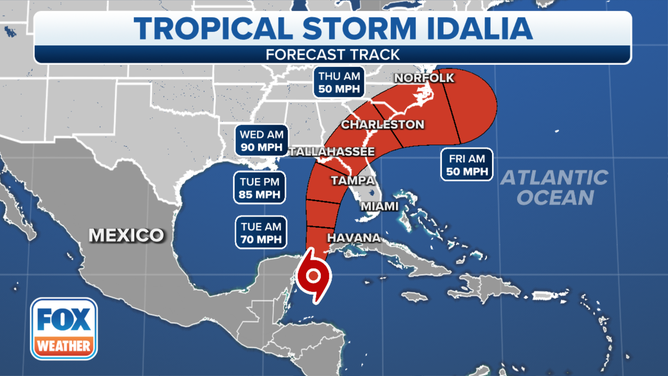 Flamingos are known to eat algae, crustaceans, plants and other species that live in shallow waters, so there exists many possible ecosystems for the birds until the weather starts to turn cooler and days get shorter.
It is likely that during the fall, the birds will join millions of others and migrate towards more southern climates.
After a recent sighting of the animals by lake goers in Port Washington, Wisconsin, the Milwaukee County Zoo told FOX6 the best course people can take is to create a respectful distance between you and the bird and simply leave it alone. Once the birds feel strong enough, they'll fly away to an ecosystem more in line with what they are accustomed to.
SCENES OF HURRICANE IDALIA'S DESTRUCTION AS STORM BLASTS REGION WITH 125 MPH WINDS

The American Birding Association said hurricanes such as Rita, Michael, Barry, Nicholas have produced similar results, with flamingos being spotted in unusual settings.
One of the most infamous cases of a bird being diverted off course was during Hurricane Michael in 2018.
The Category 5 hurricane made landfall near Panama City, Florida, but after the storm, a flamingo that was ultimately dubbed "Pinky" was spotted for years in a wildlife refuge south of Tallahassee.
According to the Florida Fish and Wildlife Conservation Commission, flamingos are considered to be native to the state but largely disappeared in the 20th century.
Currently, there are estimated to be only a few thousand in the wild in Florida and are protected under the Federal Migratory Bird Treaty Act.