Watch a fire whirl: Arizona wildfire makes its own weather while forcing evacuations
Fast spreading Flagstaff, Arizona wildfire creates a dangerous fire whirl or fire-generated vortex and forces evacuations.
The rapidly growing Pipeline Fire near Flagstaff, Arizona sparked around 10:15 in the morning Sunday and scorched over 1,000 acres in just hours. The fire burned so hot that it created its own weather. 
The video shows twin fire whirls. A fire whirl is, "A spinning vortex column of ascending hot air and gases rising from a fire and carrying aloft smoke, debris, and flame," defined the National Wildfire Coordinating Group. "Fire whirls range in size from less than one foot to over 500 feet in diameter. Large fire whirls have the intensity of a small tornado." 
The Pipeline Fire, about six miles north of Flagstaff, spread quickly on 30-45 mph wind gusts through the forest lands. Sustained wind blew between 25 and 30 miles per hour most of the day. The relative humidity remained in the low teens, weather that is prime for wildfire spread. The fire has burned 4,500 acres as of Sunday night. More than 270 firefighters are on site according to the Cononino National Forest.
EXPERTS BELIEVE THE WESTERN FIRE SEASON WILL BE MORE ACTIVE THAN NORMAL BUT WILL FALL SHORT OF RECORDS
Evacuations
The Coconino County Sheriff Department evacuated a neighborhood near Wupatiki Trails, along U.S. 89 and large portions of rural land and recreational areas around Schultz Pass and the Arizona Snowbowl (area in green). The Snowbowl is a ski resort in the winter and an area for camping, hiking and other outdoor sports and hobbies the rest of the year. 
Tyler Jackson and his friends were finishing up a Sunday round of disc golf. Family and friends who knew where he was playing called and called. Not long after, a Snowbowl employee told the group, "evacuate and get off the mountain."
Jackson returned to the parking lot to find that he was one of the last cars left to evacuate. Over his shoulder he saw the towering smoke from the uncontrolled wildfire.
7 THINGS TO KNOW ABOUT FIRE RETARDANT
The sheriff even evacuated the local animal shelter forcing the organization to scramble and find foster homes for 72 of their 100 dogs.
Sheriffs warned the Doney Park neighborhood to be ready for evacuation if the fire continues to progress and/or winds change. Those areas are yellow on the evacuation map.
CLICK HERE TO GET THE FOX WEATHER UPDATE PODCAST

The blaze also closed U.S. 89 in both directions between Flagstaff and Cameron, Arizona.
FOX 10 Phoenix reported that the Coconino County Sheriff's Office arrested a man in connection to the fire. Formal charges are not yet known. 
HOW WILDFIRE BURN SCARS COULD HAVE LASTING IMPACTS
Dangerous fire weather conditions continue
The National Weather Service issued a Fire Weather Warning for Monday from 11 a.m. to 8 p.m. Winds area again expected to blow at 20-30 mph and gust to 50 mph. The relative humidity will drop even lower than it did Sunday afternoon to 5-10%.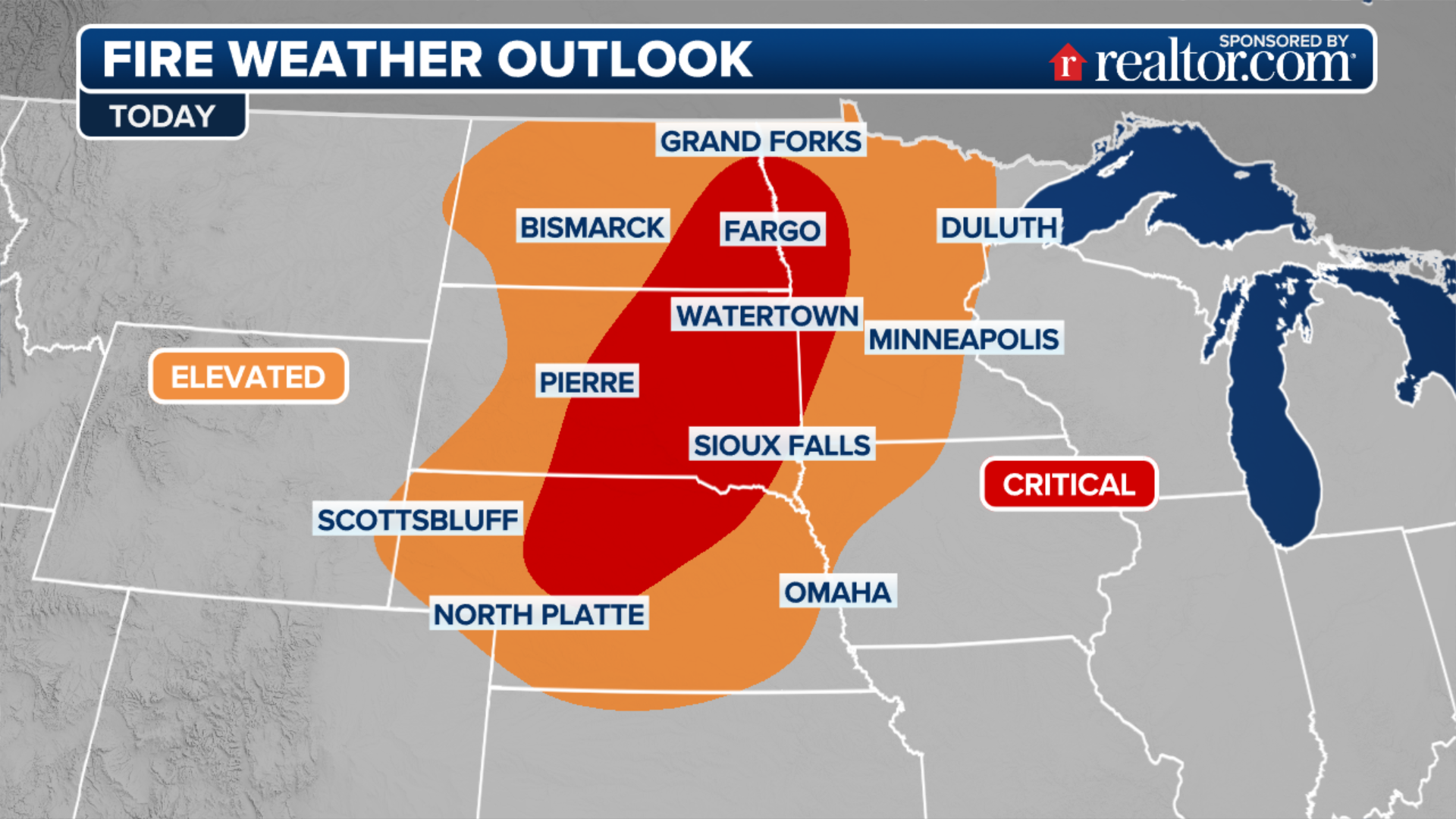 Meanwhile, crews are still putting out hotspots within the Tunnel Fire which burned over 19,000 acres about 14 miles northeast of Flagstaff. Crews just achieved 100% fire containment on June 1 of the fire that started in mid-April. The cause of the Tunnel Fire that destroyed 30 homes, is still under investigation.
ARIZONA'S TUNNEL FIRE NOW 20% CONTAINED; 21,215 ACRES BURNED
Get the most up-to-date forecast for where you live from the app, FOXWeather.com or watch FOX Weather on TV.