Easter weekend sky to be illuminated by full moon
Pink wild ground phlox flowers typically grow in April and is where the moon's nickname originates
The Easter holiday weekend could be a stargazer's delight with the appearance of the Full Pink Moon that will light up the night sky.
The moon will reach its peak on Saturday at 2:55 p.m. EDT, but astronomers say it'll appear bright through Monday morning.
The Farmer's Almanac says the full moon's nickname comes from early spring flowers that tend to be prevalent in pink during April.
Because of the timing of this year's full moon, it is also known as the Passover Moon.
The moon will appear bright during the Jewish holiday, which began at sundown on Friday.
7 TIPS ON HOW TO SHOOT THE MOON WITH A CAMERA
The best view of the celestial body comes when it rises over the horizon under clear skies, but unfortunately, it looks like Mother Nature could hinder visibilities in parts of the country.
A series of storm systems will produce plenty of cloud cover along the East Coast, Gulf Coast, Plains, Rockies and Pacific Northwest.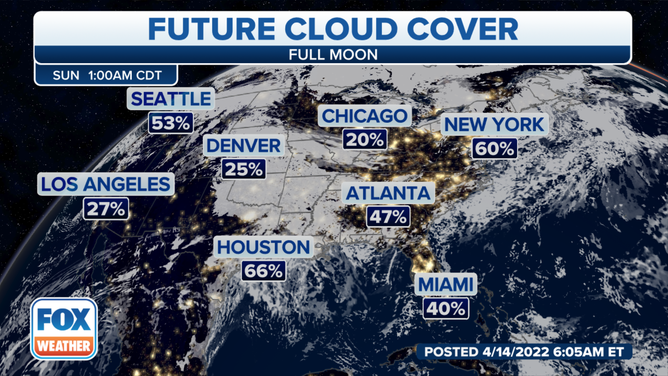 If you miss seeing the full moon in all its glory, the next one won't occur until May 15, but it will be special.
HOW TO WATCH FOX WEATHER ON TV
Next month, stargazers in North America will be treated to a total lunar eclipse.
This rarity only occurs when the Earth comes between the sun and the moon, and the Earth's shadow temporarily covers the lunar body.
May's full moon will appear red because of sunlight bouncing off of Earth and lighting up it's surface.
The year 2022 will have 12 full moons, with the supermoon on July 13 being the closest to Earth.