See the dead, frozen shark found on icy Massachusetts beach during polar vortex
The shark is believed to be a porbeagle, a warm-blooded shark species that lives in the North Atlantic Ocean.
DENNIS, Mass. – With its mouth agape, the piercing sharp teeth of a shark were on full display. But what would've struck fear instead inspired cautious pity, as the predator lay cold and still on the ice-covered sand.
This was the scene discovered by a local photographer over the weekend, as she strolled along Cold Storage Beach on Cape Cod.
SCIENTISTS ASK BEACHGOERS TO HELP KEEP TRACK OF SHARKS
"Def not what I was expecting to find on my frozen winter adventure," the photographer said on Instagram.

Massachusetts, along with much of the Northeast, was hit by a polar vortex as last week drew to a close, causing temperatures to plummet. In fact, Boston felt the coldest temperature in decades when the thermostat dipped to negative 10 on Saturday morning.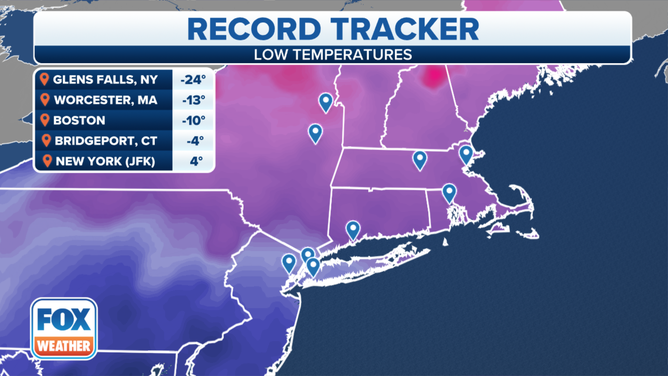 While the cold may seem like the most likely culprit behind the shark's demise, an injury to its right side may indicate a different cause.
The shark is believed to be a male porbeagle, according to a tweet by John Chisholm, marine biologist and adjunct scientist at the Anderson Cabot Center for Ocean Life.
MEGALODON SHARK TOOTH DISCOVERED BY 9-YEAR-OLD GIRL IN MARYLAND
Unlike many shark species, the porbeagle is warm-blooded, which allows it to live in areas such as the chilly waters of the North Atlantic. According to Oceana, porbeagles prefer cold, temperate waters.