'This is an emergency': Biden promises action on climate change after Congress' effort fails
President says he will use executive orders to push the clean-energy transition forward
SOMERSET, Mass. – Standing on the former site of a coal-burning power plant Wednesday, President Joe Biden promised to use executive orders to address climate change after Congress' effort fizzled.
"I have a responsibility to act," Biden said while speaking at Brayton Point, where the largest coal-fired power generator in New England stood for nearly 60 years.
HOW TO WATCH FOX WEATHER ON YOUR TV
The plant was decommissioned in 2017, and Biden said the site will now be used to manufacture under-sea cable necessary to connect offshore wind farms to the country's power grid. He said the project is an example of the clean-energy jobs that addressing climate change will provide.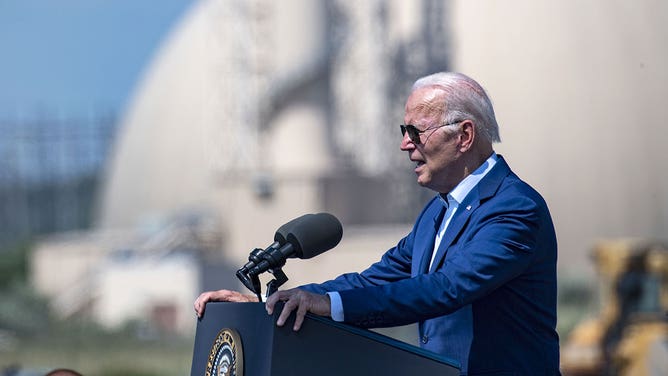 "Climate change: I think jobs," Biden said.
The president stopped short of specifics but said details of the executive orders he will use would be outlined in the coming days. One may be regarding offshore wind farms along the Gulf Coast, which the president said he wants to see open up for that type of energy development for the first time.
50-50 ODDS THAT EARTH REACHES CRITICAL CLIMATE-CHANGE THRESHOLD BY 2026, SCIENTISTS SAY
Gregory Nemet, professor of public affairs at the University of Wisconsin, said executive orders alone will not be enough if the goal of a clean-energy sector by 2035 is to be achieved.
"I think what he can do is probably get us started, but ultimately, we're going to need a lot more than executive orders to make that kind of transformation," Nemet said.
Biden said his administration had made $2.3 billion available to help communities build resilient infrastructure and that states can use federal funds to buy air conditioners for low-income families and stand-up cooling centers during a heat wave. The president also touted measures in the infrastructure law he signed last year that focus on clean energy.
Biden said he views climate change as "a clear and present danger" to the U.S. and he will do whatever he can to combat it.
"This is an emergency," the president said.
GET THE LATEST EPISODE OF THE FOX WEATHER UPDATE PODCAST
Be sure to download the FOX Weather app to track any storms in your area and receive potentially life-saving weather alerts issued by the National Weather Service. The free FOX Weather livestream is also available 24/7 on the website and app and on your favorite streaming platform. The FOX Weather Update podcast also provides weather information for the entire country.