Astronauts welcome Starliner spacecraft on first visit to space station
Boeing Starliner first attempted the trip in 2019, this time it was successful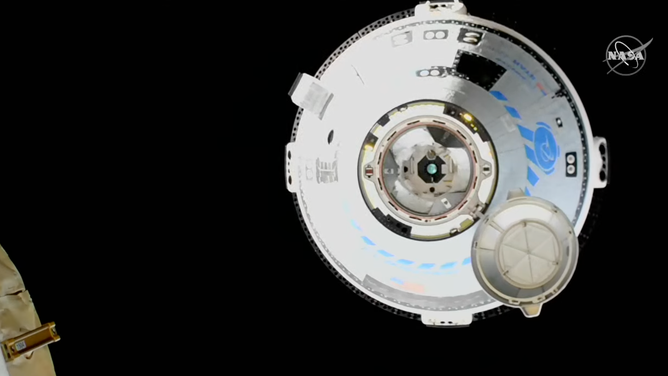 Boeing's Starliner spacecraft arrived at the International Space Station Friday evening, more than two years after an initial attempt to complete the final test needed before Starliner can fly NASA astronauts.
The spacecraft docked more than 24 hours after it blasted off from Florida on an Atlas V rocket on the orbital flight test-2 (OFT-2).
While no live astronauts were onboard Starliner, the spacecraft's commander seat was occupied by a manikin named "Rosie the Rocketeer." Her seat is outfitted with sensors to collect data and better understand what human astronauts will experience.
Testing the Vesta docking system for the first time, Starliner had some delays pulling into the ISS to park. It missed the first docking window at 7 p.m., holding at 10 meters from the space station and made it on the second attempt. A retreat maneuver was also tested, moving Starliner away from the ISS ahead of the final parking ahead of 8 p.m. 
The astronauts on the space station watched the approach and a soft capture was announced shortly before 8:30 p.m.
With Starliner's arrival, two American-made spacecraft are now docked at the space station. SpaceX Crew Dragon arrived earlier this month with the four Crew-4 mission astronauts.
Starliner is a product of NASA's Commercial Crew Program designed to replace the space shuttle program and stop the U.S. from buying rides for its astronauts from the Russian space agency. Both Boeing and SpaceX were awarded contracts from NASA in 2014 to design, test and fly human-rated spacecraft.
HOW TO WATCH FOX WEATHER ON TV
Boeing first attempted the orbital flight test in December 2019, but a computer-timing error confused the vehicle, and it missed an orbital insertion burn. That attempt concluded when Starliner landed in New Mexico 48 hours after launch instead of docking with the ISS.
After a full investigation and resolving technical issues, Boeing next tried the OFT-2 in August 2021, but this time the spacecraft never left the launch tower. A valve issue caused by chemical corrosion and Florida humidity grounded Starliner for another eight months until that issue was investigated and resolved.
Friday's arrival at the ISS completes the second major step in the orbital flight test. After spending about a week on the station, the spacecraft will undock and land in New Mexico, completing the OFT-2.