Boeing Starliner launches, begins journey to space station after troubled past
Atlas V launched Starliner at 6:54 p.m. from Cape Canaveral, spacecraft will dock at ISS Friday night
Overcoming years of technical hurdles, Boeing's CST-100 Starliner capsule launched Thursday from Florida, sending the soon-to-be astronaut spacecraft to the International Space Station. 
A United Launch Alliance Atlas V rocket weighing more than 978,000 pounds with fuel lifted off at 6:54 p.m. from Launch Complex 41 in Cape Canaveral.
The rocket's first stage pushed Starliner out of Earth's atmosphere, then about 30 minutes after liftoff, Starliner needed to complete an orbital insertion burn. This was the part Starliner got hung up on during Boeing's 2019 attempt to send the spacecraft to the ISS. After successfully completing that burn, Starliner was on its own in space and on the way to the ISS.
Starliner is a product of NASA's Commercial Crew Program designed to replace the space shuttle program and stop the U.S. from buying rides for its astronauts from the Russian space agency. Both Boeing and SpaceX were awarded contracts from NASA in 2014 to design, test and fly human-rated spacecraft.
HOW TO WATCH FOX WEATHER ON TV
This isn't the first spaceflight for a Starliner. Boeing first attempted the orbital flight test in December 2019, but a computer-timing error confused the vehicle, and it missed an orbital insertion burn. That attempt concluded when Starliner landed in New Mexico 48 hours after launch instead of docking with the ISS.
After a full investigation and resolving technical issues, Boeing next tried the OFT-2 in August 2021, but this time the spacecraft never left the launch tower. A valve issue caused by chemical corrosion and Florida humidity grounded Starliner for another eight months until that issue was investigated and resolved.
In 2020, SpaceX completed its first human spaceflight to the ISS with NASA astronauts Bob Behnken and Doug Hurley. Boeing has been working toward finishing this final uncrewed orbital test flight before a test flight with NASA astronauts.
Despite the hiccups along the way, NASA managers said its critical astronauts have more than one American-made ride to the ISS. 
NASA astronaut Mike Fincke, Butch Wilmore and Suni Williams have been training to fly in Starliner for the last few years. They say they are confident in the vehicle's ability to get them and their fellow astronauts to the ISS.
WHAT A TOXIC INFERNO LIKE VENUS CAN TELL US ABOUT EARTH 
"We wouldn't be here right now if we weren't confident. Confident that this would be a successful mission," Wilmore said. "There are always unknown unknowns. That's what historically has always gotten us, right? Is those things that we don't know about and we don't expect. We're ready. The spacecraft is ready. These teams are ready. Boeing is ready."
This time around, if Boeing completes the ISS docking, it will test out a system called Vesta that lines up the spacecraft to park at the space station. 
"We're going to be paying attention on this mission to the artificial vision system called Vesta, which we didn't get a chance to work or see in action on the first orbital flight test," Fincke said. "So we'll see how the automated docking system works with the artificial vision system all the way through the NASA's docking system. We're going to follow along with our lucky ISS crewmates who are aboard the space station."
ASTRONAUTS TO GET A NEW SET OF WHEELS FOR RIDES TO LAUNCHPAD
If the orbital test flight continues as planned, Starliner will autonomously dock at the International Space Station at about 7 p.m. Friday, where the astronauts living in space will be watching.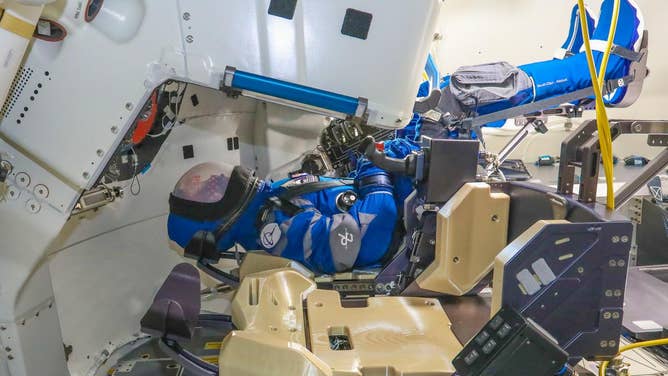 While no live astronauts are onboard Starliner, the spacecraft's commander seat was occupied by a manikin named "Rosie the Rocketeer." Her seat is outfitted with sensors to collect data and better understand what human astronauts will experience.  
A successful OFT-2 will end with a Starliner landing in New Mexico about a week after launch. 
"We're really looking forward to the spacecraft coming home because that's when the rest of the work will start to happen, and we'll get ready for the crewed flight test," Williams said.