American, Italian astronaut crew arrives at Kennedy Space Center ahead of launch
SpaceX to launch NASA's Crew-4 mission on April 23 at 5:26 a.m. ET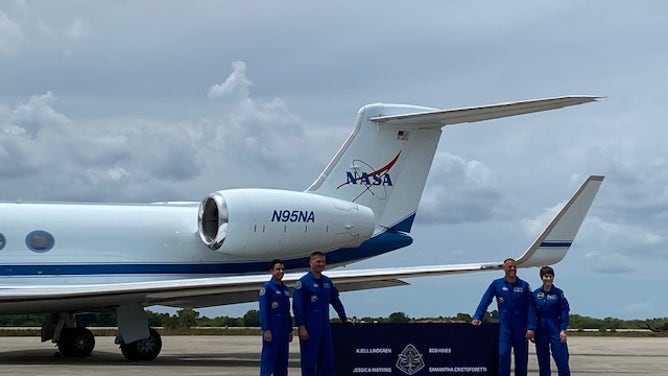 KENNEDY SPACE CENTER, Fla. – NASA's Gulfstream jet touched down on the former Space Shuttle runway Monday afternoon, carrying the next four astronauts to launch with SpaceX to the International Space Station.
The Crew-4 astronauts, NASA's Kjell Lindgren, Bob Hines, Jessica Watkins and European Space Agency astronaut Samantha Cristoforetti of Italy, were all eager and excited to arrive in Florida ahead of their April 23 launch. 
NASA and SpaceX are targeting 5:26 a.m. ET Saturday to launch the Falcon 9 and Dragon Freedom spacecraft from launchpad 39A.
After his previous spaceflight in a Russian Soyuz, Crew-4 commander Lindgren said flying in SpaceX's American-built rocket from Kennedy Space Center was very meaningful for him.
NASA TO MOVE ARTEMIS MOON ROCKET BACK TO ASSEMBLY BUILDING AFTER TECHNICAL ISSUES HALT DRESS REHEARSAL
"Getting to fly to space is a once in a lifetime opportunity and to get to do it again is serial and such a privilege," Lindgren said. 
Growing up, both Lindgren and Cristoforetti recalled watching space shuttle launches and having a love for science fiction, which inspired them to become astronauts. 
The astronauts will spend time at the beaches near Cape Canaveral and some time with their families before launch.
Cristoforetti, who last launched on a Russian Soyuz in 2014, said one of her last Earth moments she'll enjoy would be taking a shower with gravity. Astronauts on the ISS use water bottles and wash clothes to bathe. 
"I'd like to take a very long shower on that last day before launch," Cristoforetti said.
The next nice hot shower for the astronauts will be about six months away when they launch on Saturday. The astronauts will spend their time in orbit conducting science and research in the ISS laboratory. 
It will be the first spaceflight for Hines and Watkins, who are part of the 2017 astronaut class nicknamed the "turtles." There are currently two other "turtles" on the station part of the Crew-3 mission, Kayla Barron and Raja Chari.
Watkins' fellow crew members said they are excited to be on obit with her because she is a geologist. Viewing Earth from 200 miles above the planet is one of the favorite pastimes of astronauts, and they are all hoping to bug her with questions.
Crew-4 will be launching in a brand new Crew Dragon capsule the astronauts have named Freedom. Hines, the mission pilot, said flying in a new vehicle is very rare because of the reusability of SpaceX's rockets and spacecraft.

"We have gotten to watch this vehicle from its infancy all the way to, as I say, a somewhat mature baby Dragon now," Hines said.
NASA and SpaceX are also working to bring home the private group of space travelers under the Axiom-1 mission.
The Axiom-1 crew are scheduled to splash down Wednesday off Florida's coast after a week-long stay on the ISS.