Axiom-1 coming home: First private astronaut crew prepares to return from space station
NASA targeting April 20 at 7:19 a.m. ET for Axiom-1 mission splashdown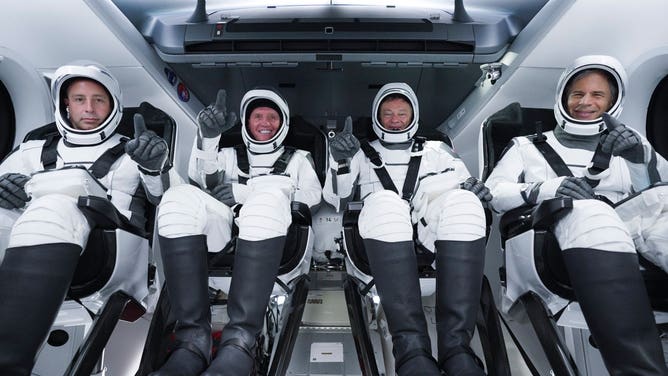 CAPE CANAVERAL, Fla. – Four civilians who have been in space for about a week are preparing to return to Earth early next week, completing the Axiom-1 mission, the first all-private spaceflight to be the first all-private spaceflight to the International Space Station.
SpaceX launched the four private space explorers in the Dragon Endeavour spacecraft from Kennedy Space Center on April 8. The flight was the first mission for Axiom Space's private space program in which people pay around $55 million each to fly to the ISS.
NASA astronaut and Axiom Space Vice President Michael López-Alegría led the spaceflight as the Ax-1 commander with Axiom customers Larry Connor, Mark Pathy and Eytan Stibbe.

WATCH: CIVILIAN ASTRONAUTS ARRIVE AT THE INTERNATIONAL SPACE STATION
NASA said it is targeting Tuesday at 10:35 a.m. for the Axiom-1 crew and the SpaceX Dragon to undock from the ISS with a splashdown off Florida's coast at 7:19 a.m. Wednesday. Their return depends on weather conditions off either the east or west coast of Florida. Calm seas are a must for a safe recovery. 
Axiom Space and NASA will air live coverage, including a farewell ceremony on Tuesday morning.
The Ax-1 crew has been busy conducting research on the orbiting lab during their week-long stay. They will also return with more than 200 pounds of science and supplies, including returning a few things for NASA. 
After splashdown, SpaceX boats will be there to pick up the Dragon spacecraft, and soon after, recovery teams will help the crew out of the capsule. 
HOW THE TELESCOPE BECAME OUR WINDOW INTO THE UNIVERSE
The Ax-1 crew will be one-half of eight people leaving the space station as four more arrive in the next two weeks. 
SpaceX and NASA are planning the return of four government astronauts as part of the Crew-3 mission and the launch of the next long-duration mission known as Crew-4. 
Four astronauts will launch from Kennedy Space Center to the space station on April 23.