Wheezing and sniffling? It could be Saharan dust
Another plume of Saharan dust is targeting southern states this week
Saharan dust plumes traveling across the Atlantic from Africa may make for gorgeous, colorful sunsets and sunrises, but they are sheer misery for those with allergies and respiratory issues. Florida and Texas are two states with a lot of stuffy noses as a result and another plume is on its way.
"The Saharan dust seems to, creep up on us," explains Dr. Michael Kaplan of Kaplan Sinus Relief in Houston. "Every summer it creates symptoms similar to spring and fall allergies, resulting in a great deal of nasal congestion, sometimes sore throat and respiratory symptoms."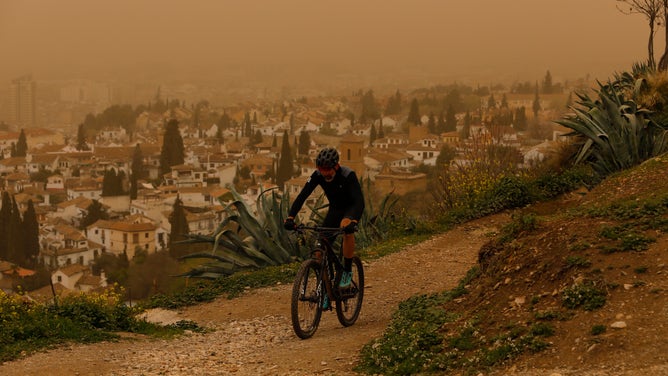 The dust settles out of the atmosphere and into eyes, noses and throats. Scientists measure the quality of the air with the Air Quality Index.
7 FACTS THAT EXPLAIN HOW AIR QUALITY IS MEASURED 
Texas and Florida started experiencing dust on Sunday. That dust will slowly settle out of the air through Tuesday and move into Oklahoma, Arkansas and Louisiana. Conditions improve Wednesday for everyone before the next big Saharan Air Layer arrives.
SIGNIFICANT BURST OF SAHARAN DUST IS ON ITS WAY TO THE GULF COAST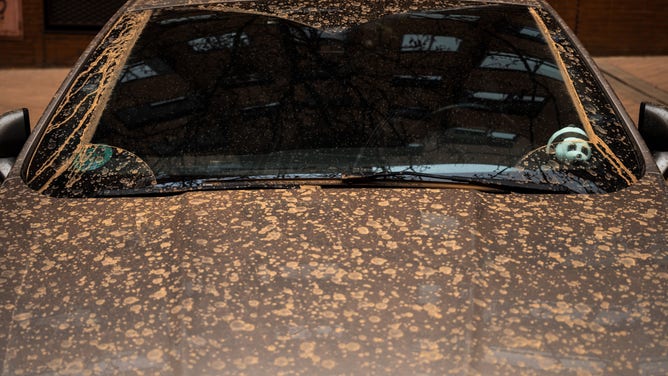 "We see an uptick in patients coming in with respiratory symptoms: cough, congestion, post nasal drip, itchy eyes, sneezing, sometimes some facial pressure, headaches," said Kaplan. "That can even, in some people, trigger bronchitis and asthma."
Forecast models show the dust plume which originates over Africa's Sahara Desert, charging across the Atlantic and streaming over South Florida, Texas and Louisiana.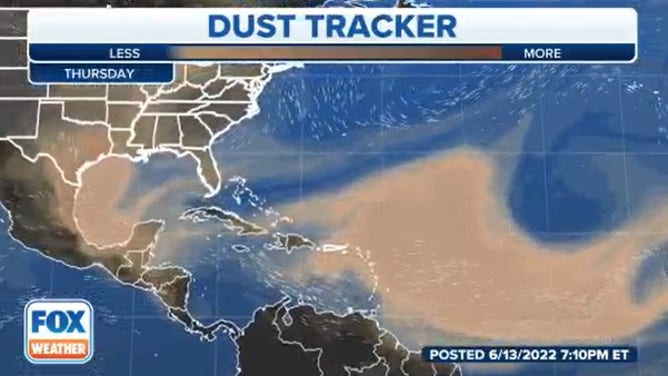 By the weekend, Florida's air quality should start improving before the dust starts to lessen across the entire South.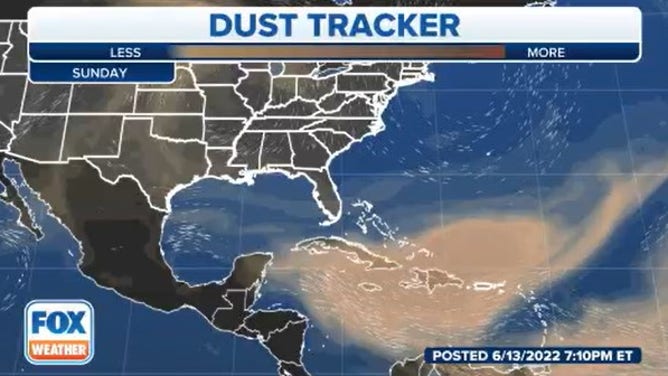 "People can react in one of two ways. It can be a true allergic reaction. And that reaction results in the release of histamine in the body causing nasal congestion, itchy eyes, sore throat," explained Kaplan. "For other people, it can be an irritant, and they can be essentially irritated by that as they would be by chemicals -- creating scratchy throat, irritated nose and eyes."
Wearing an N-95 or equivalent mask can filter some dust out. But, FOX News Medical Contributor, Dr. Janette Nesheiwat doesn't recommend masking outdoors. She suggests washing your face with water when you come back inside and limiting your time outdoors.
"The best thing to do is take your allergy medicine if you suffer from allergies and keep up to date with the local news on when the dust is it going to be in your area," said Nesheiwat. "If you are just recently recovered from COVID-19 or flu or strep or any disease, potentially your symptoms might be a worse."
Check your local forecast on the FOX Weather app to get the Air Quality Index where you live.
AIR QUALITY: WHO HAS THE BEST AND WORST? 

If over the counter allergy medications don't work, talk to your doctor about a stronger anti-inflammatory like a short course of oral steroid or a steroid injection.
"Within 24 to 36 hours your symptoms have improved if not 100% then 78%," said Kaplan. "You've got your quality of life back and your back to work."
CLICK HERE TO GET THE FOX WEATHER UPDATE PODCAST 
 What is a Saharan dust plume?
Tropical waves, ripples in the lower to mid-atmosphere, pick up large amounts of dust as they skirt the southern edge of the Sahara Desert, says NOAA.  The Saharan Dust Layer suspends the dust about a mile above the surface and can be 2-2.5 miles thick. The African Easterly Jet, river of fast moving air, sends the dust east.
Meteorologists track the layer and the dust by satellite (a combination of visible, infra-red and water vapor). (See the video above, from NOAA, tracking dust in 2020 from Africa.) The layer peaks between late June and mid-August. Outbreaks (dust plumes) occur every three to five days.
The dusty, dry layer of strong winds suppress hurricane formation so NOAA keeps close tabs.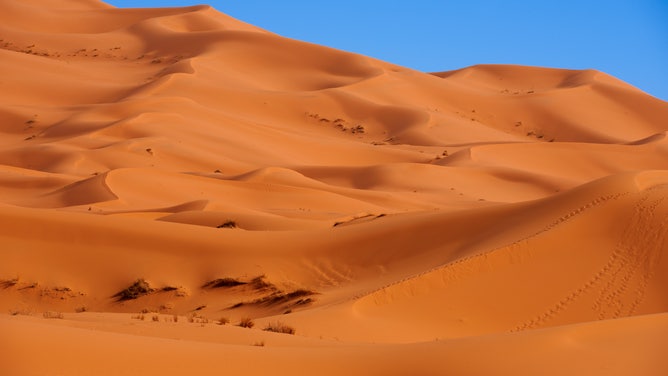 Sunrises and sunsets are more red and yellow and the colors longer-lasting because the sunlight is scattered by more atmosphere.
MORE THAN PRETTY PHOTOS: THE SCIENCE BEHIND COLORFUL SUNRISES, SUNSETS 
FOX Weather Sunrise wants to showcase those beautiful sunrise photos from around the country to start your day off right. 
Make sure to follow FOX Weather on social media and don't forget to tag us in your sunrise photos or use #FOXWeather.