World's largest tree still standing as wildfire rages nearby
General Sherman Tree threatened by KNP Complex fire in California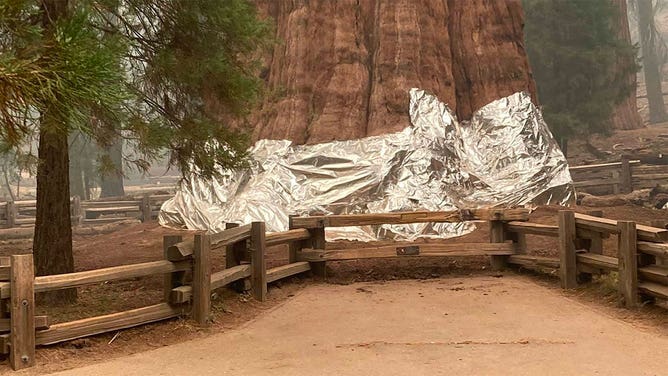 THREE RIVERS, Calif. -- The world's largest tree is still standing Tuesday as firefighters battle to keep a wildfire burning nearby at bay.
The KNP Complex fire was ignited by a lightning strike on Sept. 10. It has since consumed more than 25,000 acres of land near the Sequoia and Kings Canyon national parks.
Some of the world's oldest and largest trees live in the Giant Forest that is part of Sequoia National Park.
RELATED: Lessons from past wildfires give hope to saving world's largest trees as new blaze threatens
Jon Wallace, Southern Area Blue Team's operations chief, said crews have had success keeping the wildfire west of the Generals Highway which is the main road to access the parks.
"Everything is still safe and looking really good with the museum," Wallace said in a Tuesday briefing. "They've had sprinklers running up there. We've burned around all that infrastructure now, and protected it well."
Among the trees in the Giant Forecast is the General Sherman Tree – the world's largest when measured by volume. Crews wrapped the base of the mammoth sequoia in foil last week to protect it if fire were to sweep through the park.
Wallace said the tree has come through unscathed thanks to the tireless efforts of firefighters.
"If you actually drove up to the General Sherman Tree right now, it would look like a normal day, minus the tourist traffic," Wallace said.
The National Park Service also said that another group of iconic sequoias called The Four Guardsman made it through the fire with very little damage.
Both the Sequoia and Kings Canyon parks are closed to visitors. Most roads in both parks have also been closed to traffic.