Women's church group rescued from Arizona mountain due to heat-related illness
Temperatures were expected to reach between 105 – 110 degrees.
PHOENIX - Around a dozen people were rescued from Camelback Mountain after multiple members of their hiking group began suffering from heat-related illness Thursday afternoon, FOX 10 reported.
A women's church group had reportedly started hiking Echo Canyon Trail earlier in the morning for a retreat. Fire officials say the group consisted of women from Alabama, Tennessee, and California, and that they were filming for a documentary called "Bad Girls Gone God," where they embark on strenuous activities to get closer to God.
Some hikers told fire crews that they did not do their research before starting the hike.
Several of them have been wheeled down the trail, and one of them had to be taken by helicopter. All of them were in their 30s and are in stable condition, officials said.
Nearby weather gauges showed temperatures around 105 degrees around the time of the rescue operation.
Despite the appearance of the obsessive heat, the Phoenix area usually sees high temperatures around 106 degrees during late June.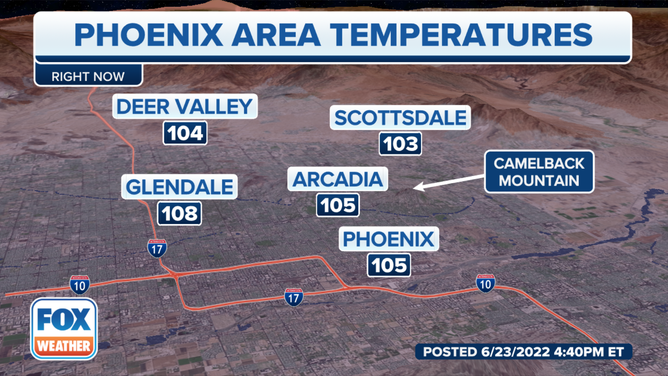 HOW TO WATCH FOX WEATHER ON TV
Preventing heat exhaustion/heat stroke
The Arizona Department of Health Services stated the following precautions can be taken to prevent heat exhaustion or heat stroke:
Stay in air-conditioned buildings
Limit outdoor activity during the hottest part of the day (mid-day)
Check on at-risk friends, family, and neighbors at least twice a day
Drink water before, during, and after working or exercising outside
Track the temperatures in your area with the FOX Weather app. The free FOX Weather livestream is also available 24/7 on the website and app and on your favorite streaming platform. The FOX Weather Update podcast also provides weather information for the entire country.