Winter weather alerts issued across the Northeast, northern New England
Northern Maine could pick up 5-8 of snow in the higher elevations
The Northeast and northern New England are under winter weather alerts as a fast-moving winter storm could deliver a few inches of snow to the region Sunday into Sunday night.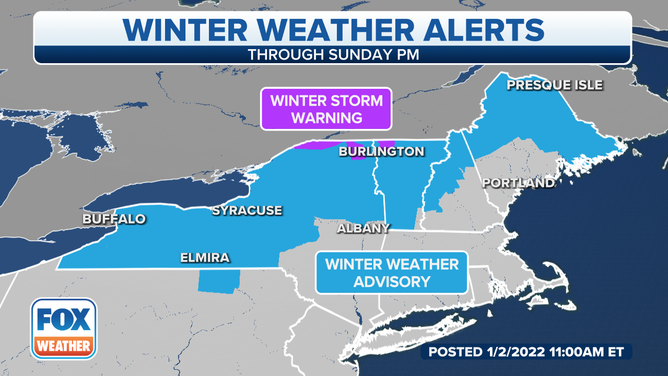 Winter storm warnings are in effect for some parts of New York and Vermont until Sunday evening. Forecasters say the region could experience periods of moderate to heavy snow, and between 3-5 inches could fall in places like Massena, Malone, Dannemora and St. Albans.
The rest of the region, from Buffalo, Syracuse and Oswego, east into Vermont, New Hampshire and Maine, are under winter weather advisories.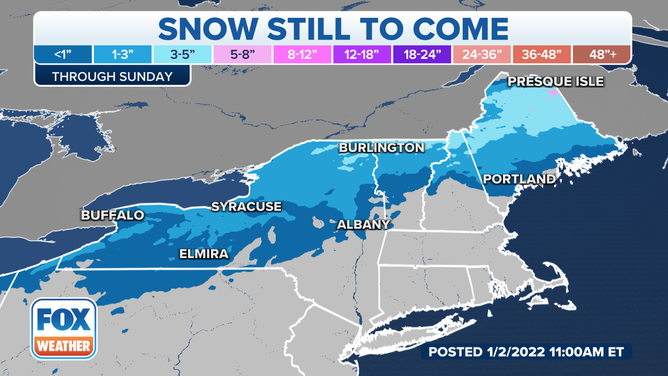 Those regions are expected to experience snow with some mixed precipitation throughout the day. Some areas could pick up an additional 1-3 inches of snow, and some areas could also see a glaze of ice.
In general, northern New York and northern New England could pick up 1-3 inches of snow, with some higher elevations picking up 3-5 inches of additional snow. Some areas of northern Maine could see more than a half-foot.
Anyone traveling in the Northeast and northern New England should monitor conditions and allow for extra time.
And as always, don't crowd the snowplows.