Winter storm to bring up to 12 inches of snow to Midwest
From Kansas and Nebraska northeastward into Illinois and Michigan, 3 to 8 inches of snow is expected – some locations could pick up 8 to 12 inches of accumulation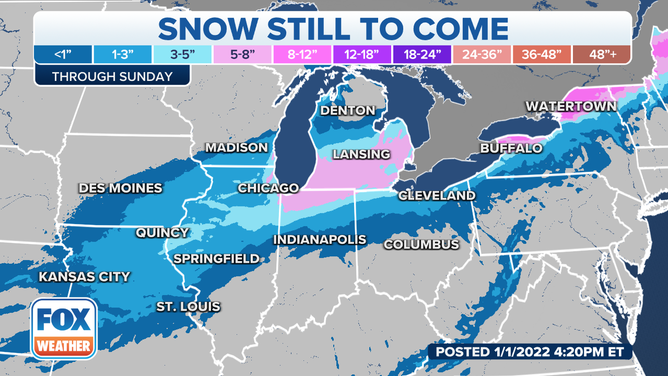 KANSAS CITY, Mo. – For anyone returning home from holiday destinations, travel may be difficult as a winter storm upwards of a foot of snow from parts of the Midwest into the Great Lakes.
A low-pressure system moving through the country is producing rain and severe weather across the South and heavy ice and snow from the Plains into the Great Lakes.

The measurable snow is some of the first signs of winter for several communities, who until this weekend have reported a deficit of frozen precipitation.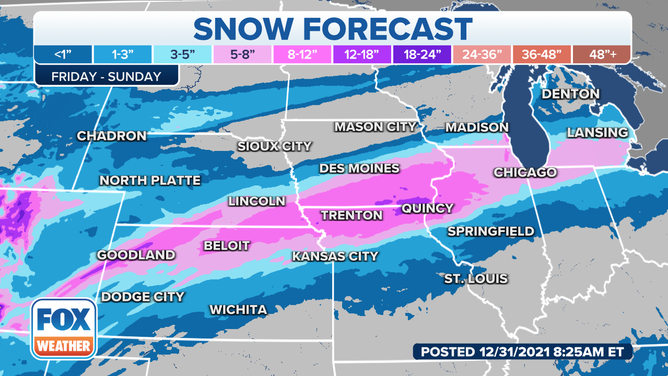 Winter Storm Warnings, Winter Storm Watches and Winter Weather Advisories have been issued from the Central Plains to the mid-Mississippi Valley and the Great Lakes.
From Kansas and Nebraska northeastward into Illinois and Michigan, 3 to 8 inches of snow is expected through the weekend. Locally higher totals between 8 and 12 inches are possible in some areas.
Temperatures plummet in Kansas City
Friday's high temperature for the Kansas City area reached the lower 50s, but will change drastically by Saturday night when temperatures plummet 50 degrees to a low of 2 degrees. That will be followed by below-freezing temperatures through Monday afternoon. Wind chills Saturday night will range from 5 to 20 degrees below zero.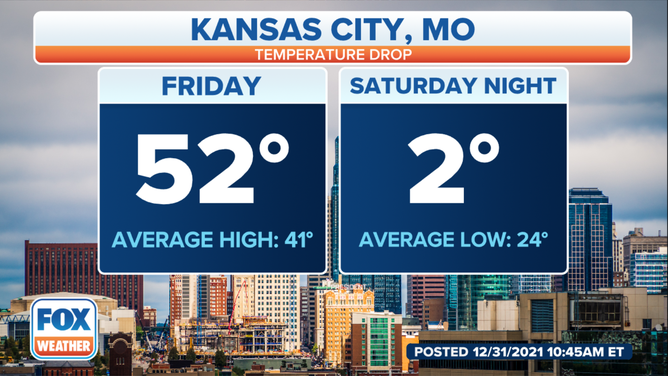 The NWS said widespread wintry precipitation is expected across the Kansas City region, with total snow accumulations of 2 to 5 inches and ice accumulations of around one-tenth of an inch possible. Winds could gust as high as 35 mph.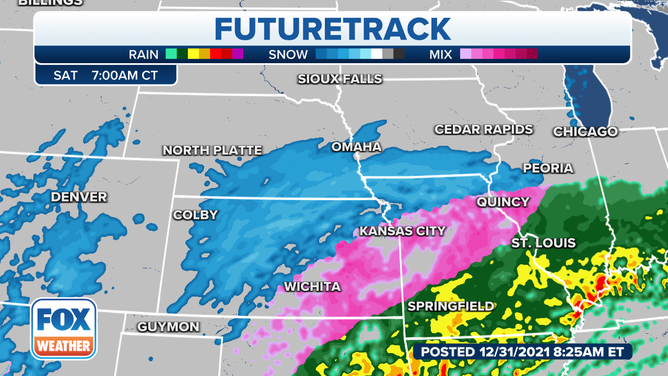 The rain will transition to a mix of rain, freezing rain and snow in mid-Missouri on Saturday morning before transitioning to all snow around midday. A light glazing of ice from southeastern Kansas into central Missouri is possible through the morning hours. The greatest ice accumulations are likely along a Butler-to-Sedalia-to-Boonville line.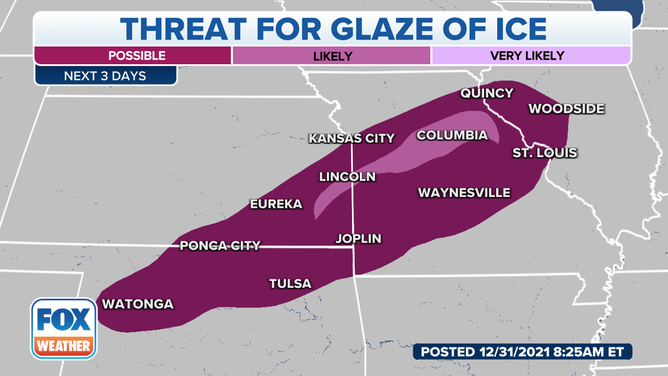 The greatest snow amounts will be across northeastern Kansas into northern Missouri. The highest snowfall totals are likely along and north of a St. Joseph-to-Chillicothe-to-Kirksville line. The Kansas City metro is expected to get anywhere from 2 to 5 inches of snow.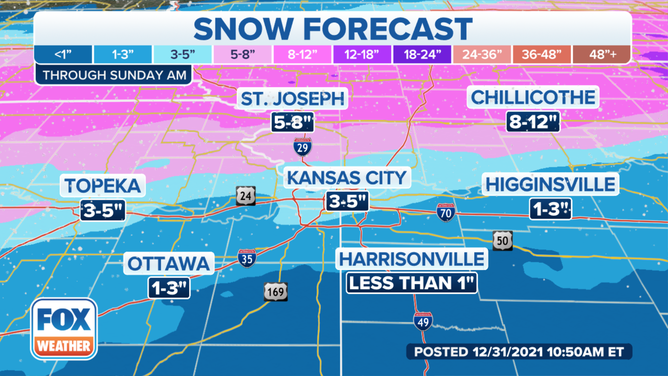 SNOW CANCELED IN DECEMBER? KANSAS CITY'S LACK OF IT COULD SET NEW RECORD
Kansas City has only made it five times to January without measurable snow of at least 0.1 inches at the Kansas City International Airport.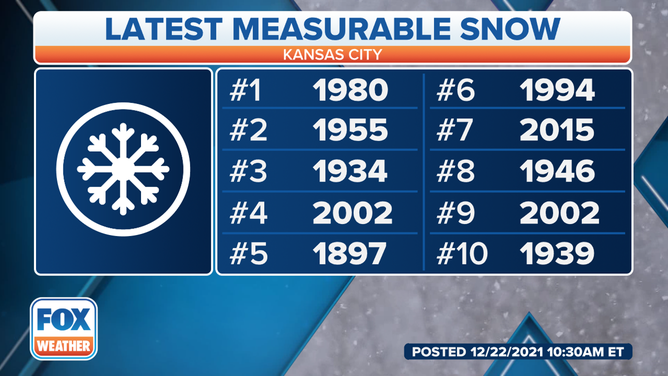 If the city can make it to Jan. 2, 2022, then it will make it into the top four, but current forecast models show that to be unlikely.