Winds spread smoke from chemical plant fire over New Jersey, New York
Winds from the north is sending the smoke over Staten Island, New York and Trenton, New Jersey
PASSAIC, New Jersey – Gusty winds on Friday evening sent potentially dangerous smoke from a chemical plant fire over areas of New Jersey and New York.
The fire began around 8 p.m. and quickly grew out of control, forcing officials to deploy around 200 firefighters and declare an 11-alarm response.
Passaic Mayor Hector Carlos Lora conducted Facebook lives, where he advised nearby residents to avoid going outdoors.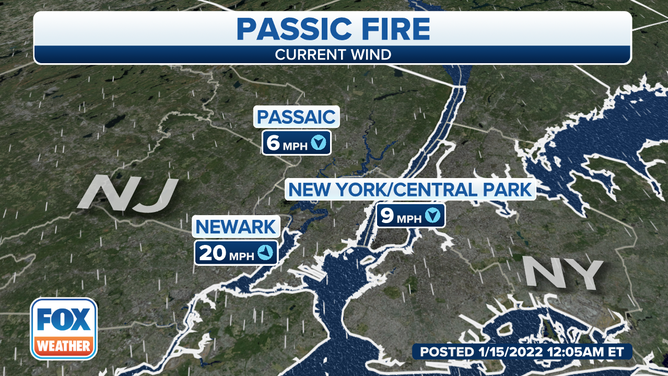 Winds gusts of more than 20 mph helped fan the flames and push a massive plume of smoke southward over Staten Island, New York and Trenton, New Jersey.
The mayor said first responders were concerned that the flames could reach chemicals, including chlorine pellets.
New Jersey Governor Phil Murphy was informed of the situation and is monitoring developments.

The governor urged nearby residents to keep their windows closed and for all to pray for the first responders.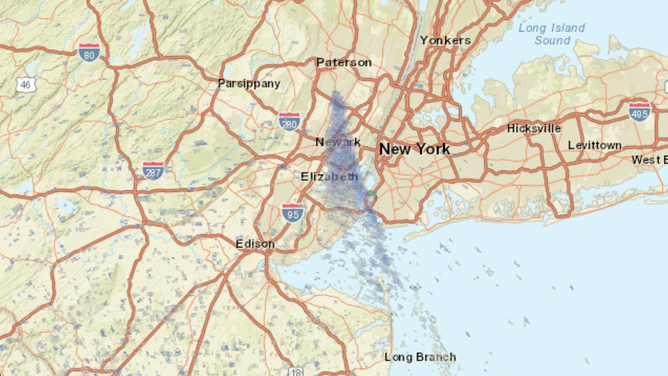 The plume of smoke was large enough to be seen on radar in the tri-state area.
Winds are expected to remain elevated through Saturday, which is also helping usher in cold air.
Firefighters experienced wind chill values around zero degrees on Saturday morning.
New York City Emergency Management warned residents that they might see and smell the smoke.
Mayor Lora said the fire was at the site of the Qualco plant, which makes chemicals for pools.