Wildfire burns through Southern California national forest
The fire broke out just after 11 a.m. local time in the Cleveland National Forest on the Holy Jim Trail, burning 400 acres in just three hours.
CLEVELAND NATIONAL FOREST, Calif. – A wildfire in Orange County, California, blackened over 553 acres. Firefighters said the fire is holding at that acreage and is 50% contained.
The Jim Fire broke out just after 11 a.m. local time in the Cleveland National Forest in the Holy Jim Canyon, burning 400 acres in its first three hours, according to fire officials. The cause is under investigation.
Ground crews will continue to build hand and dozer lines around the fire and utilize water-dropping helicopters to assist with any remaining hotspots. Air tankers will be on standby to respond if needed.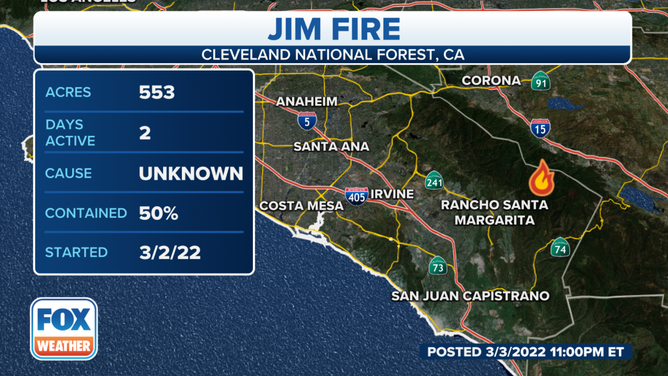 Despite the smokey skies, the Orange County Fire Authority said the out-of-control fire is not a threat to Orange County homes at this time. The fire is about 35 miles northeast of San Diego, 20 miles east of Laguna Beach and 50 miles southeast of Los Angeles.
Southern California has been baking in record high temperatures the past couple of days helping to dry out the brush. Fire threat was already elevated with low humidity percentages in the teens and low 20s. 
WARM TEMPERATURES IN WESTERN, CENTRAL US BREAKS RECORDS WEDNESDAY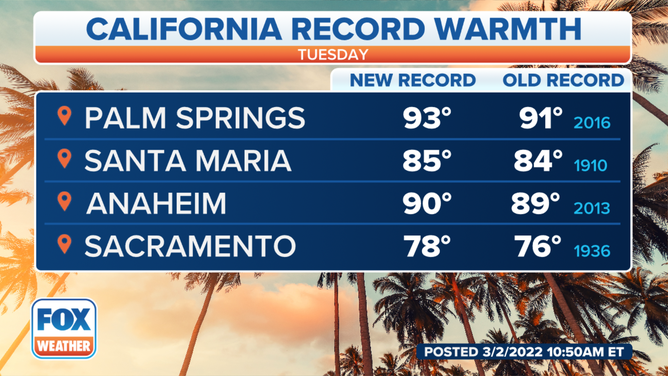 Firefighters with the Cleveland National Forest said the fire is growing with a moderate rate of spread. The smoke plume rose high above the fire and caused some alarm to communities across Riverside and Orange Counties. The forest straddles both counties. You can actually see the fire from FOX Weather's satellite images.

Crews are fighting the file, wholly contained on National Forest land near the Holy Jim Trail, by air and ground. Fire officials told FOX Weather that the fire is burning mostly in inaccessible terrain. 
FOX Weather meteorologists expect rain overnight to continue through Saturday which will further aid firefighters.