Widespread severe weather threat expected to develop across much of Southeast
Storms may produce strong tornadoes, destructive winds, and damaging hail
A widespread and potentially more violent severe weather threat is expected to develop across much of the Southeast during the afternoon and evening hours Saturday.
A Tornado Watch has been issued for parts of Kentucky and Tennessee until 8 p.m. Eastern.
Storms may produce strong tornadoes, destructive winds, and damaging hail.
The FOX Weather team is providing live updates through our FOX Weather Wire. CLICK HERE to follow along.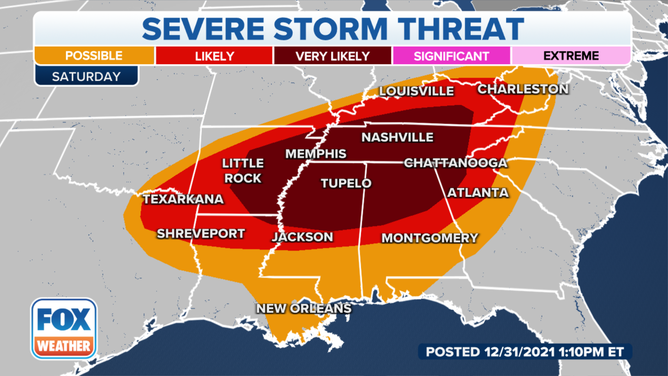 The storms will then continue to move east overnight and portions of the Deep South will see a risk for some severe storms into Sunday.
The severe weather threat should begin to diminish on Sunday, especially later in the day, but a few severe thunderstorms are still possible in parts of the Southeast before the cold front sweeps off the East Coast.
In addition to the severe weather, flash flooding is a major concern, with the greatest threat from Arkansas through eastern Kentucky.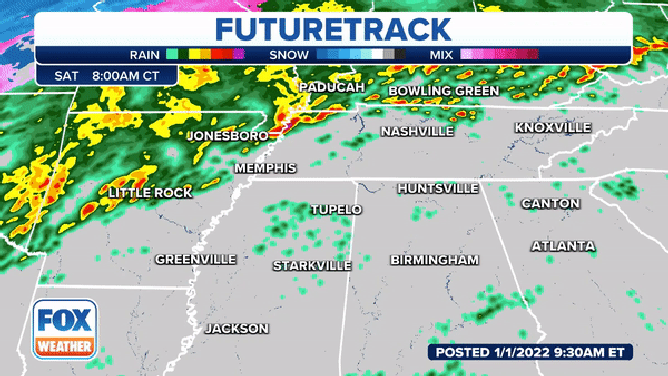 Storms will likely track over the same areas dropping as much as 2 to 5 inches of rain in a short time. This will lead to widespread instances of flash flooding as well as river flooding even after the rain ends.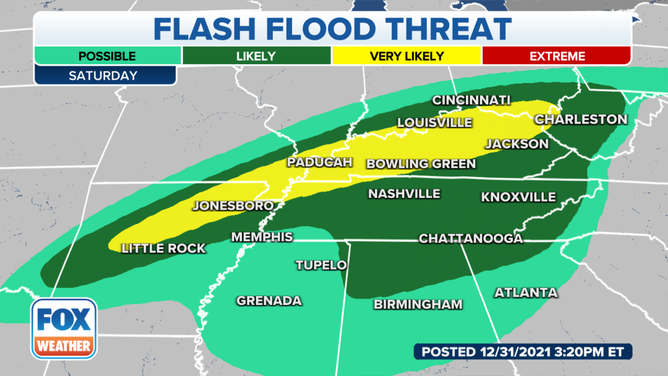 Between 2 and 4 inches of rain is likely in the region shaded in yellow on the map above. Isolated rainfall totals as high as 6 inches are possible where thunderstorms repeatedly develop over the same areas.
At least an inch of rain is expected over a broader area from the Ohio Valley into parts of the South through Saturday, with locally higher amounts possible in any heavier downpours.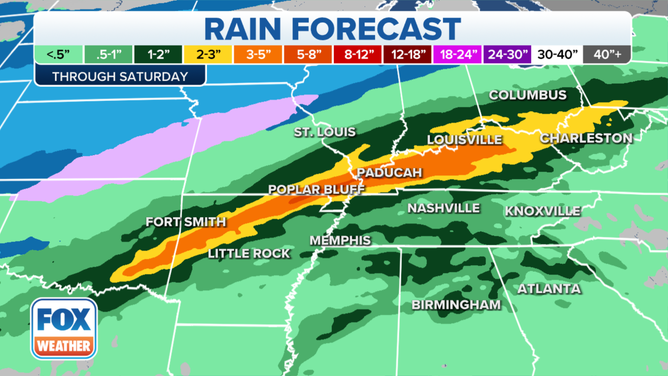 If you are in any of the areas at risk for severe storms this weekend, make sure you have severe weather alerts turned on in your FOX Weather app so you can receive potentially life-saving warnings issued by the National Weather Service. Additionally, be sure to turn on government alerts in your smartphone settings and charge your battery before severe weather threatens.
If you have a NOAA weather radio, you'll want to ensure it has fresh batteries and keep it turned on, including by your bedside before you go to sleep Friday and Saturday nights.