Why pirates invading Tampa this weekend will be saying 'Brrr!'
Thousands of attendees will see highs near 50 degrees and gusty winds out of the northwest
TAMPA – Florida's largest pirate festival returns on Saturday to the streets of Tampa Bay, but the annual event will also coincide with some of the coldest air of the season for the Sunshine State.
The city says over 300,000 people are expected to join the pirate celebrations that were canceled last year due to the Covid pandemic.
Performers and guests of Gasparilla will have to contend with an invasion of arctic air that will keep temperatures around 20 below average.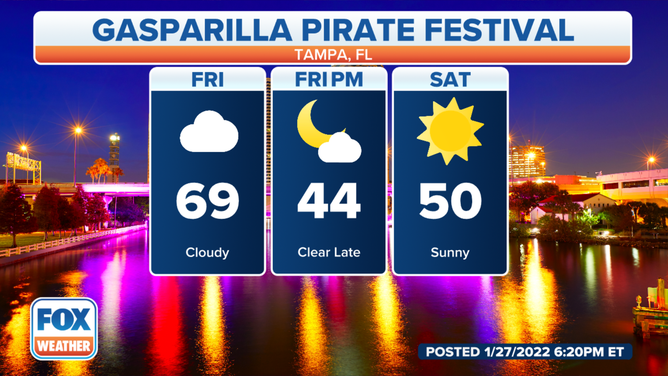 Meteorologists say highs on Saturday will struggle to reach 50 degrees, and gusty winds out of the northwest will keep temperatures feeling much colder.
The National Weather Service Office in Tampa expects winds to gust upwards of 40 mph and has issued an advisory warning boaters of the potential rough waters.
The Small Craft Advisory, which is in effect from Friday evening until 7 p.m. on Saturday, warns that the windy conditions could make waterways hazardous to small boats.
The cold air is even expected to make its way into South Florida, where Miami could fall below 40 degrees for the first time in more than 11 years.
WHEN DO IGUANAS FALL FROM TREES IN FLORIDA?
During a typical year, the festival usually sees the morning low start off in the mid-50s, and high temperatures reach the lower 70s.
But over its 117-year existence, the event has seen its share of rollercoaster-like weather.
Since 1905, pirates have invaded Tampa as part of the festival named after Jose Gaspar, who terrorized the waters off West Florida during the 18th century.