Arctic chill to bring 30s for first time in 11 years to Miami
In some areas, the duration of temperatures of 32 degrees or below could be as much as 4 hours
MIAMI – Floridians living Miami will be grabbing the blankets this weekend, as the coldest temperatures in over 11 years arrive Sunday morning.
The chill will sure be felt with a low bottoming out to 38 degrees. The last time temperatures dropped below 40 degrees in Miami was on Dec. 28, 2010.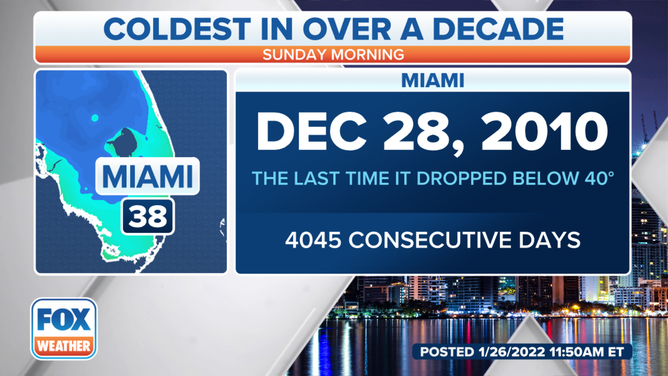 A 1966 record in Lakeland could be broken Sunday morning when temperatures reach a low of 27 degrees. Orlando, Fort Myers and Fort Lauderdale could also see record cold.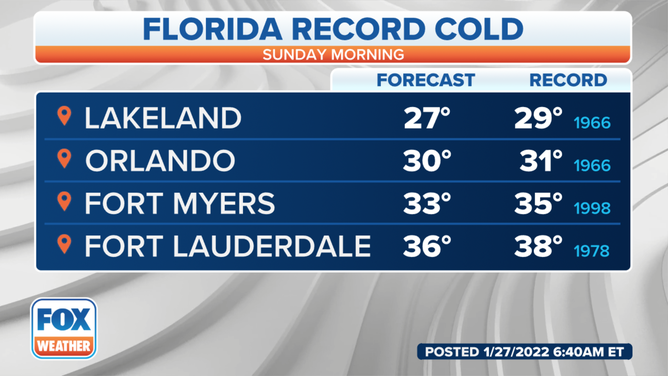 The National Weather Service issued a Special Weather Statement on Wednesday warning of a strong cold front that will move down the Florida Peninsula Friday night, then off the southeastern Florida coast during the pre-dawn hours of Saturday.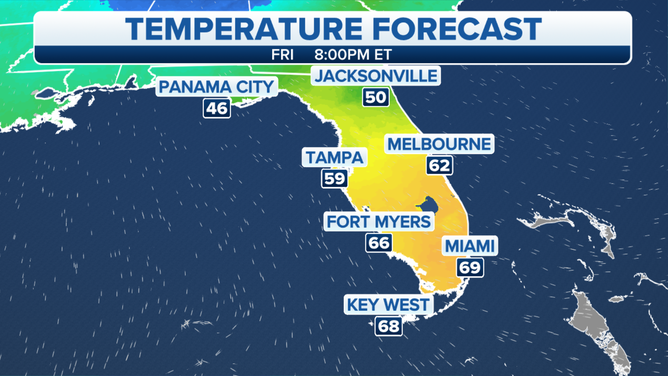 Temperatures on Saturday are forecast to not get out of the 50s over most of the area, and even southern areas around Miami may struggle to reach 60 degrees under clearing skies and gusty northwesterly winds.
1/26: Here's the forecast backward trajectory of the Arctic airmass heading into South Florida this upcoming weekend. That's right! The air currently over extreme northeastern Canada will travel all the way down (with some minor stops along the way 😉) to South Florida. #flwx https://t.co/Ef5jWHZb2T pic.twitter.com/rl0SueOG6K

— NWS Miami (@NWSMiami) January 26, 2022
This will set the stage for the coldest night and morning, which will likely be Saturday night and Sunday morning. Temperatures in Orlando will struggle to reach 50 degrees Saturday afternoon before dropping below freezing overnight into Sunday morning.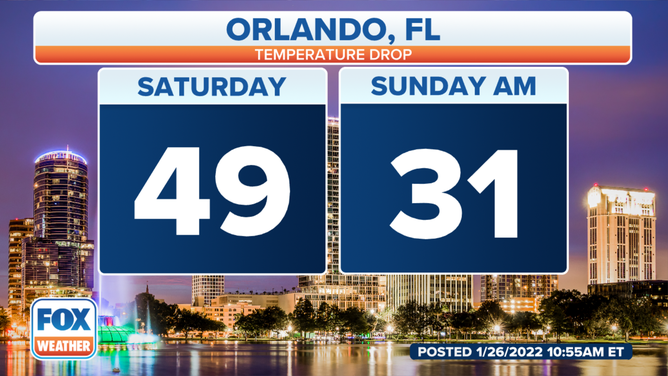 The NWS said probabilities for freezing temperatures early Sunday morning are increasing over inland southwestern Florida, primarily Glades, Hendry, inland Collier and inland Palm Beach counties well away from Lake Okeechobee. 
In these areas, the duration of temperatures of 32 degrees or below could be as much as four hours.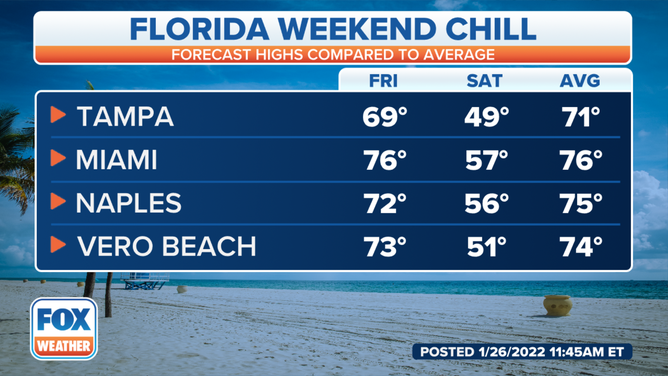 Over the rest of the area, low temperatures Sunday morning are forecast to range from the mid-30s over the outlying suburbs of the east and west coasts, upper 30s along the Gulf coast and upper 30s to lower 40s over most of metro southeastern Florida.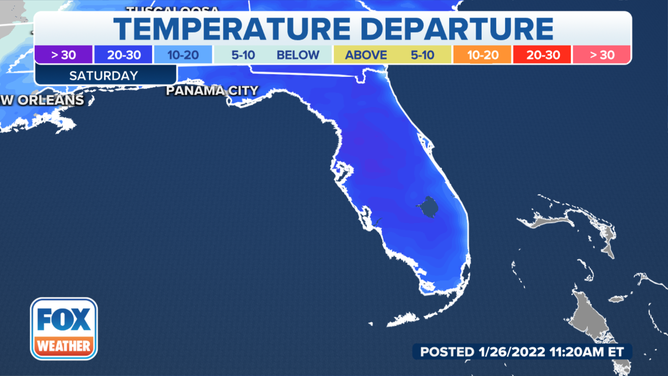 The lowest wind chill readings early Sunday could be in the 20s around Lake Okeechobee, and near 30 to the lower 30s elsewhere.
Another cold night is expected Sunday night and Monday morning, and although it may not be as cold as Sunday morning, freezing temperatures and frost may still be a possibility over interior areas around Lake Okeechobee.
Miamians can expect gradual warming to seasonable temperatures through the start of next week, with no rain in sight.