PHOTOS: White Christmas across parts of the US
Just in case you did not have a white Christmas, here are a few videos of areas that did.
White Christmas was an understatement at U.C. Berkeley's Central Sierra Snow Lab in Soda Springs, California. On Christmas Eve morning, a scientist at the lab measured two new feet of snow from just the previous 24 hours.  
He estimated snow depth at 6-8 feet and showed how the snow already nearly buried a first floor door. The National Weather Service forecast calls for another 3-4 feet of snow by Monday night. 
SNOW EXPECTED FOR MANY ACROSS THE WESTERN US ON SUNDAY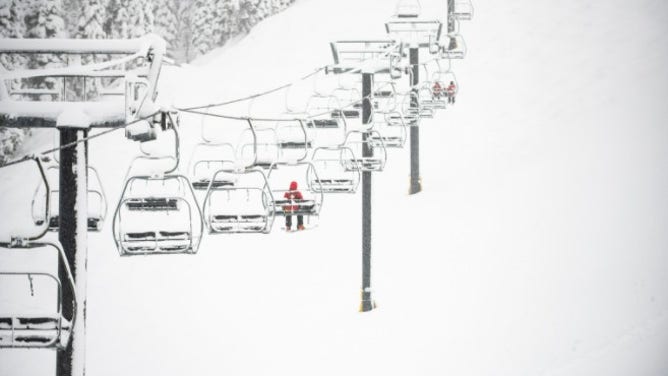 A few brave skiers took advantage of the new snow at Palisades Tahoe Ski Resort in Olympic Valley, California on Sunday.  Crews had a tough time keeping up with the snow though.

A very tired Pagosa Springs, Colorado resident couldn't keep up with the snow on Friday either. "It took about two hours to clear this. By the time we got done clearing all the way to the bottom, the top had filled back in with about two inches of snow," he said. 
Even the snowplow lost control and got stuck in a ditch in Friday's snow in Vail, Colorado. Only five miles away, a major accident closed I-70 for over an hour.  One driver didn't let the huge backup dampen his holiday spirit, he got out of the car and made a snow angel in the median.  
Downtown Seattle saw Christmas snowflakes. Not too many cars or pedestrians were out and about, but one resident enjoyed the flakes from the comfort of their high rise.  
Despite the dusting, this was not an official white Christmas for Downtown. The National Weather Service defines a white Christmas as a snow depth of one inch or more on the ground Christmas morning.   
Sunday snows blanketed the Greater Seattle area under 3-7 inches though.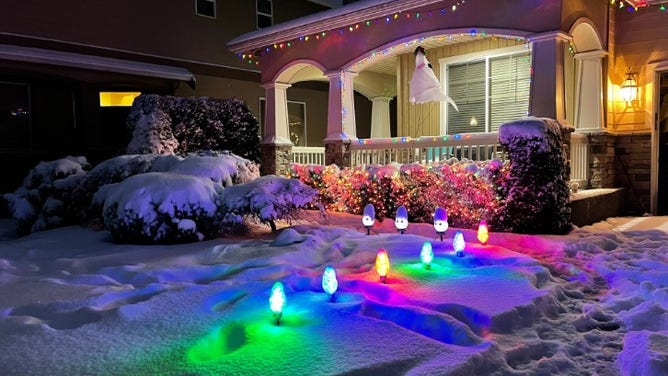 Not exactly a choir of "Silver Bells," Bountiful, Utah heard thunderstorms on Christmas Eve. The storm pelted homes with a mix of rain, sleet and snow.  In the mountains above Salt Lake City though the storm provided a winter wonderland for Christmas. 
Grafton Massachusetts looked like a Christmas card on Christmas Eve. A warm front will move through Grafton late Monday and Tuesday warming temperatures above freezing to bring an end to the frosting.
More snow arrives this week across the Rockies, Sierra, Northern Plains, and Upper Midwest this week.  So, some of you that missed snow for Christmas may have it in time for New Year's.