Wet to windy to cold: Mother's Day weekend looks like a washout for Northwest
Round one will approach the region on Friday and continue through Sunday morning, with heavy coastal rain and mountain snows
An active pattern will bring multiple rounds of soaking rain and substantial mountain snow to the West from Friday into next week.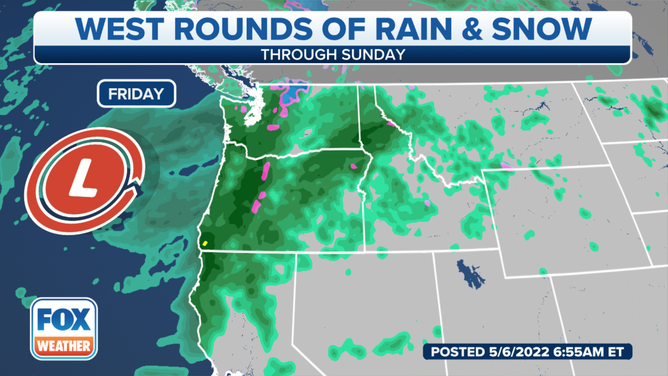 Round one will approach the region on Friday and continue through Sunday morning, with heavy coastal rain and mountain snows.
With the cloud cover already increasing over Washington, high temperatures on Friday will struggle to get out of the 40s, with lower 50s from about Seattle southward and just a couple of degrees warmer north of Seattle, the National Weather Service said.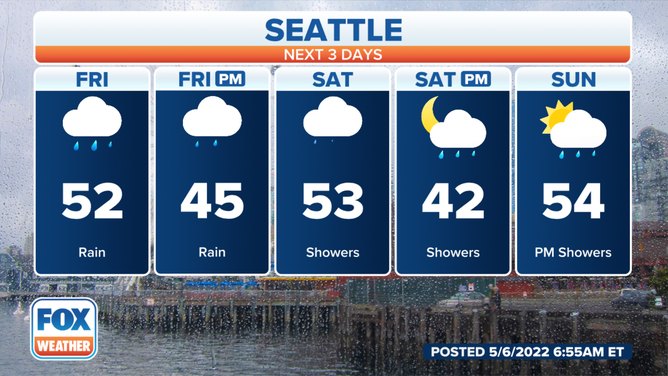 Snow will be confined to the highest peaks of the Washington and Oregon Cascades, where up to a foot of snowfall is possible through Saturday.
The snow will have a difficult time accumulating at the major passes crossing the Cascades during the midday and afternoon hours on Friday, according to the NWS. However, periods of winter travel conditions should be expected during the overnight and early-morning hours through Monday morning.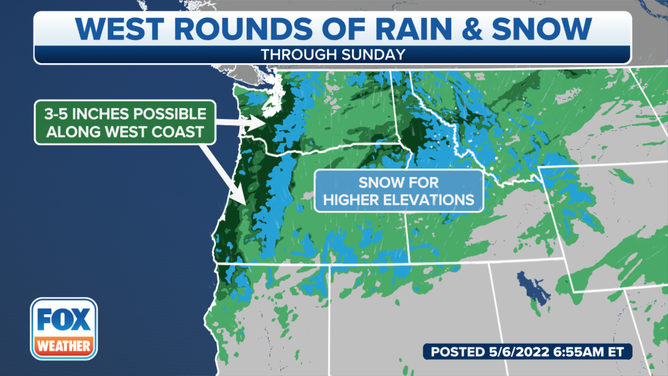 HOW TO WATCH FOX WEATHER ON TV
Moderate to locally heavy rainfall is possible along coastal sections of the Northwest.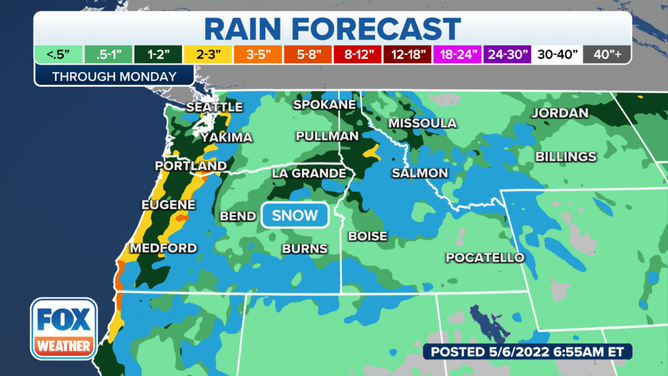 Gusty winds in excess of 50 mph will impact parts of the central Great Basin and the central and northern Sierra Nevada through Saturday morning.
High winds may also lead to dangerous travel for high-profile vehicles over the northern High Plains on Friday as the system ejects out of the northern Rockies. High Wind Watches have been issued across north-central Montana. 
The next storm will move in on Sunday, accompanied by colder temperatures and much lower snow levels. The system will continue to impact the region through Tuesday morning.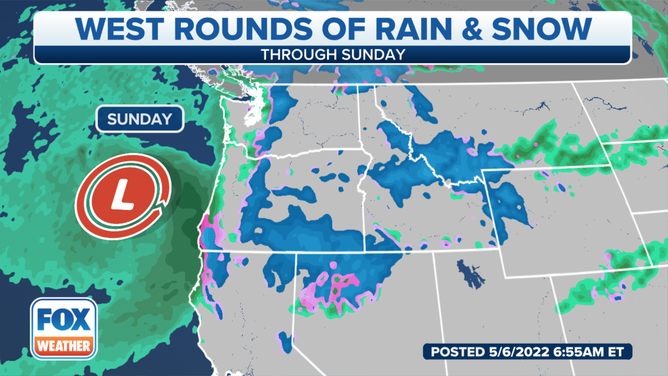 By the time it's all over, 1 to 4 inches of rain will fall along the coast from Washington to Northern California. At higher elevations, 1 to 4 feet of highly beneficial snow will blanket the mountains.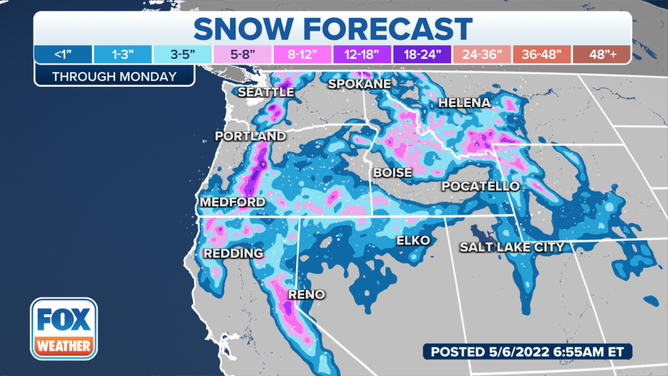 CLICK HERE TO GET THE FOX WEATHER UPDATE PODCAST
Unfortunately, the precipitation will not make it down into the Southwest, where multiple large fires continue to burn.
Download the FOX Weather app for the latest forecast and weather alerts for your exact location, plus the 24/7 livestream of America's Weather Team.