West hitches ride on springtime temperature roller coaster
Several major cities have undergone rather significant changes in temperature from one day to the next, sometimes warming well over 10 degrees one day only to drop 20 degrees the next
SEATTLE -- There's an old adage in many regions where if you don't like the weather, "just wait 5 minutes."
While this week's weather in the West may not have undergone that kind of radical shift, you can't blame those there for wondering what season it really is.
Several major cities have undergone rather significant changes in temperature from one day to the next, sometimes warming well over 10 degrees one day only to drop 20 degrees the next as a warm high-pressure center glided across that third of the country.
HERE'S WHERE 'DON'T LIKE THE WEATHER? JUST WAIT 5 MINUTES' IS A REAL THING
In Seattle, a high of 53 on Tuesday warmed to 60 on Wednesday – then zoomed to 73 degrees on Thursday, its warmest day since last September.
It lasted but a few hours. By sunset, the clouds returned, and it even rained a bit overnight. Highs Friday were forecast to be some 20 degrees colder – and then keep dropping into the weekend. Snow levels could drop as low as 300 feet Saturday night, bringing a possible rain/snow mix to the area that had seen early-summerlike weather 48 hours prior.
Though for many spots in the Rockies and Plains, that's a rite of spring and fall where radical temperature changes can occur within a day. Denver has been in the 80s in the morning and snowing by night. Speaking of which, Denver doesn't miss out on this roller coaster either. Its high was 49 on Wednesday, but the temperature was pegged to hit 79 on Saturday – only to drop back to 59 on Sunday.
Salt Lake City is also in for a weekend switcheroo, with highs near 80 on Saturday dropping into the 50s on Sunday.
The Midwest and East Coast will get in on the ride next week as a cool spell shifts to a blast of warmer weather.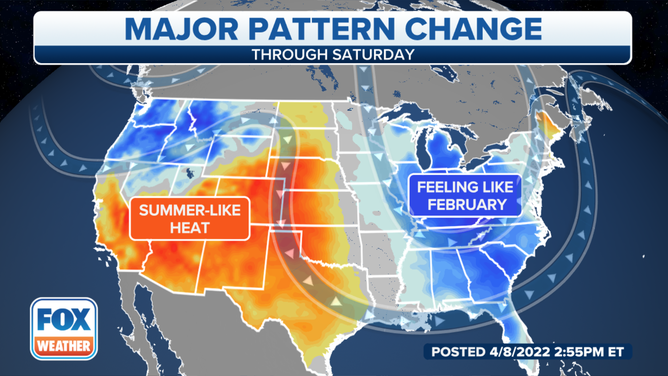 Starting this weekend the pattern will begin to flip. The upper-level low pressure, currently sitting over the east will be replaced with a ridge of high pressure and the ridge over the west will break down into a series of upper-level lows.
The result: A complete flip-flop in temperatures. Above-average temperatures will become entrenched across the East with below-average temperatures in the West.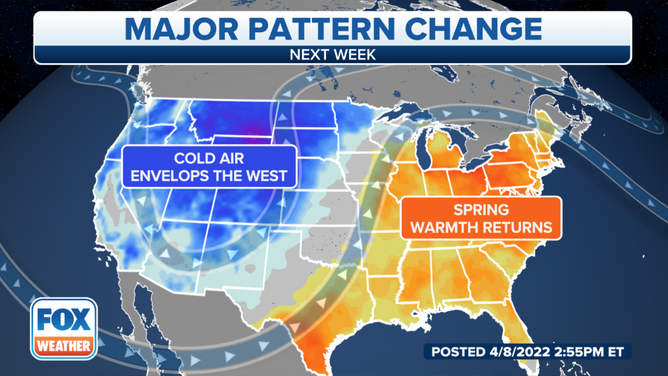 It'll feel like legitimate spring from the Great Plains to the East Coast where temperatures will be in the 60s, 70s and 80s. Down in south Texas a few record highs will be possible as temperatures soar into the triple digits.
While the entire West will be cooler than average, the most anomalously cool air will reside in the Central and Northern Rockies. Highs will struggle to get out of the 40s with lows dropping down below freezing.