Western chill: More rain, snow forecast for northern Rockies
Late season winter storm bringing cold, snowy conditions to parts of Utah, Nevada, Wyoming, Idaho and Montana
Snow continues to fall in northern Utah and southwest Wyoming on Memorial Day and is forecast to continue across the Northern Rockies through Tuesday.
While the East heats up for the unofficial start of summer, out west, a late spring winter storm is bringing rain and snow across the Northern Rockies.
Snow accumulation will primarily stick to higher elevations above 7,000 feet with trace amounts in the valleys. 
HOW TO WATCH FOX WEATHER ON TV
Here's a look at which areas could see higher snow totals on the holiday.
Utah and Nevada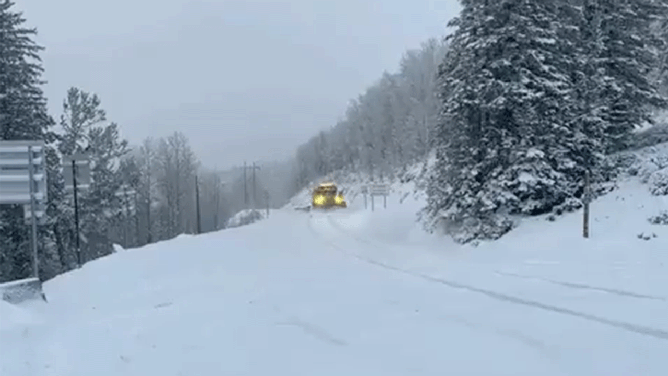 Videos posted Monday morning from the Utah Department of Transportation Cottonwood Canyons show snowplows out on the roads in the upper canyons. Roads remain open in the mid-to upper canyons, but travelers are asked to drive with caution and take it slow.
WHICH IS THE SNOWIEST MONTH OF THE YEAR?
Winter Weather Advisories are in place for northern Utah, Ruby, and East Humboldt Mountain ranges in northeast Nevada.
The National Weather Service in Salt Lake City issued a Hard Freeze Warning through Monday morning with temperatures down to 28 degrees in Panguitch, Circleville and Koosharem.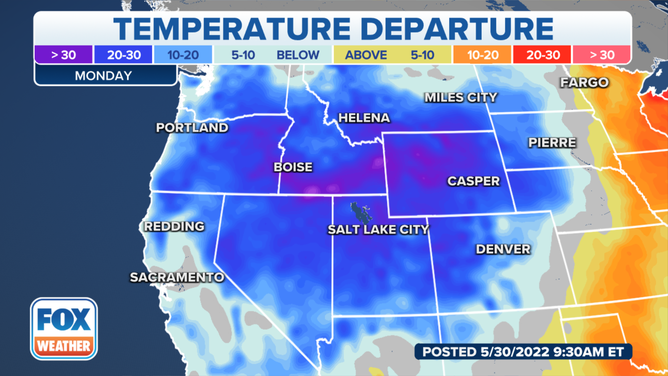 The cold will be the primary threat in northeast Nevada. Overnight temperatures will be near or below freezing through midweek.
Nevada's warming trend begins Tuesday, but some below-freezing temperatures are still possible through Wednesday morning. 
WHY SNOWFALL RATE IS IMPORTANT TO UNDERSTANDING WINTER WEATHER
In northern Elko County, a Winter Weather Advisory remains in effect until 11 a.m. Pacific Monday, where snow is expected above 6,500 feet.
Wyoming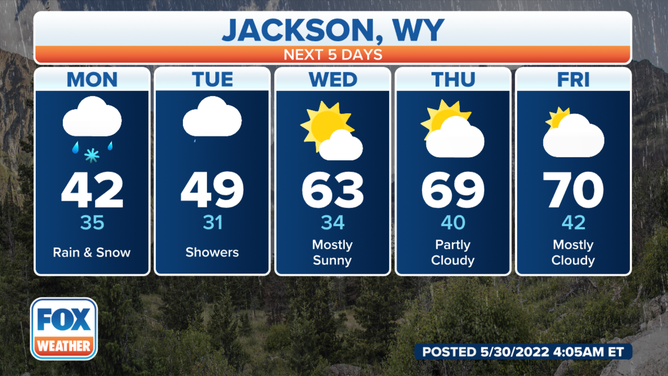 Winter Weather Advisories are in effect through 8 p.m. Monday for Western and Central Wyoming, including Yellowstone National Park, Teton and Gros Ventre Mountains.
Heavy mountain snow will shift from the northern ranges into the central mountains Monday night with heavy rain at lower elevations. 
7 THINGS YOU NEED TO KNOW ABOUT WINTER DRIVING
A Winter Storm Warning is in effect for Wind River Mountains East in Wyoming through noon Tuesday. 
Snow showers will continue throughout Monday and above 8,000 feet could accumulate between 12 and 20 inches, according to the NWS in Riverton, Wyoming. The heaviest snow will fall between 9 a.m. and 9 p.m. Monday, according to the NWS. 
Lingering rain and mountain snow are forecast through Tuesday in central and southern Wyoming. 
Idaho and Montana
Winter Weather Advisories are in effect through 8 p.m. for cities in Idaho including, Stanley, Sun Valley, Salon and Shoup.
Snow between 5 and 10 inches is forecast to accumulate above 7,000 feet with trace amounts in the valleys. 
Bogus Basin ski area in Boise County, Idaho recorded nearly 6 inches of fresh powder Monday morning. 
The spring storm system will bring wet snow across southwest Montana on Monday morning.
The NWS in Great Falls issued a special weather statement for Gallatin, Madison and Beaverhead counties in Montana where wet snow is expected to fall in elevations as low as 6,500 feet through 9 a.m. Mountain time.
CLICK HERE TO GET THE FOX WEATHER UPDATE PODCAST
A Winter Storm Warning remains in effect until noon Tuesday for the Pryor Mountains and the northern Bighorn Mountains. Heavy wet snow is expected with accumulations up to 20 inches above 8,000 feet.
Wet snow may impact travel along Highway 14 through Burgess Junction, according to the NWS in Billings.