Weather to cooperate with return to normalcy at Atlanta's airport after gun accidentally fired
An 'accidental' gun discharge sent travelers scrambling
ATLANTA – The weather at Atlanta's Hartsfield-Jackson International Airport will cooperate with plans to restore normal operations after reported gunshots forced passengers to seek shelter on Saturday afternoon.
Security officials at the busiest airport in America said they found the gun during a bag search at a security checkpoint.
Officials said Transportation Security Administration employees confronted the bag's owner, who lunged for the weapon, which led to the discharge.
Videos posted to social media showed passengers seeking shelter and lying on the ground after hearing the gunfire.
The incident halted many departing flights and forced Delta Air Lines to issue travel waivers for impacted passengers.

THANKSGIVING TRAVEL FORECAST: WHERE HOLIDAY TRAVELERS CAN EXPECT FLIGHT DELAYS INTO NEXT WEEK
Meteorologists say the weather for metro Atlanta looks favorable on Sunday for airlines to get planes and travel schedules back on track.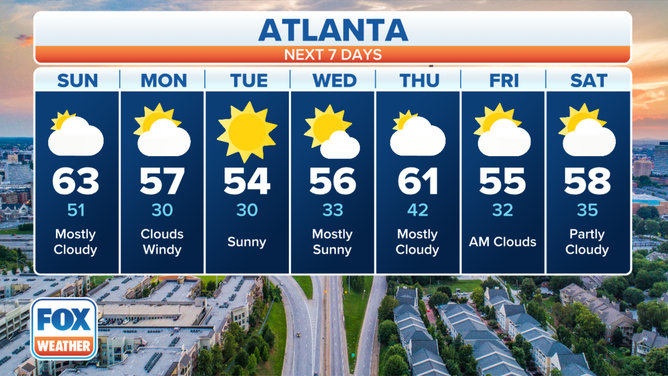 Forecast models show rain holding off until early Monday morning, ahead of a cold front.
FOX Weather meteorologists say Monday's expected rain could slow travel in and out of the airport and lead to moderate delays.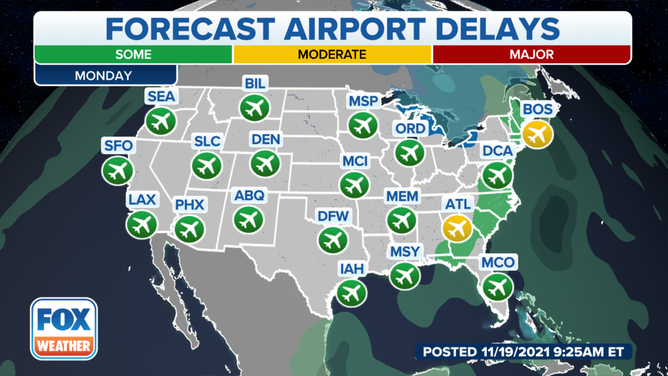 Several major airports along the I-95 corridor could also see delays associated with the wet weather, so it may be a good idea to download the FOX Weather app to monitor for any delays.