Weather patterns, restricted Russian airspace playing havoc on global flights
Aviation experts say flights from Europe and U.S. to Japan other parts of Asia could see the biggest impacts
The ongoing global response to the Russia-Ukraine conflict is causing trouble in the skies as airlines work to avoid the airspace of the world's largest country.
Russia is home to around eleven percent of all the world's landmasses, meaning many international flights fly over nation in an attempt to reach their destination in the shortest distance possible.
Recent tensions have caused Russia to ban some airlines, and in other cases, carriers such as United and American have taken it upon themselves to avoid the airspace altogether.
"Flights will have to alter their track to stay away from Russia, which will increase time and fuel burn but that also has to be weighed against the fact that probably other flights will also be canceled," Kathleen Bangs, a former commercial airline pilot and current FlightAware spokeswoman, warned.
US COMPANY TRACKING POWER OUTAGES IN UKRAINE IN FIRST-OF-ITS-KIND WAR ZONE EFFORT
The altered flight paths mean some planes will not be able to take advantage of jet stream patterns that many airlines rely on to get planes to their destinations ahead of time and under budget.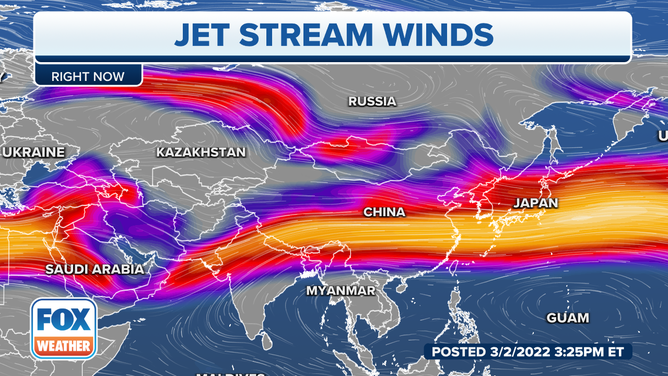 Bangs said upper-level winds can be in excess of 200 mph, which dramatically affect flight times and fuel burns.

Jet stream patterns are constantly influx around the world and predominately flow from west to east.
FlightAware experts say airline operation departments take the winds into account before they create and file a flight plan.
238-MPH JET STREAM SHAVES AN HOUR OFF CROSS-COUNTRY FLIGHTS TO EAST COAST

The altered flight plans due to restrictions are clearly visible on FlightAware's aircraft tracking products. 

An example of a flight that took advantage of the open air before the restrictions was Air France flight 276.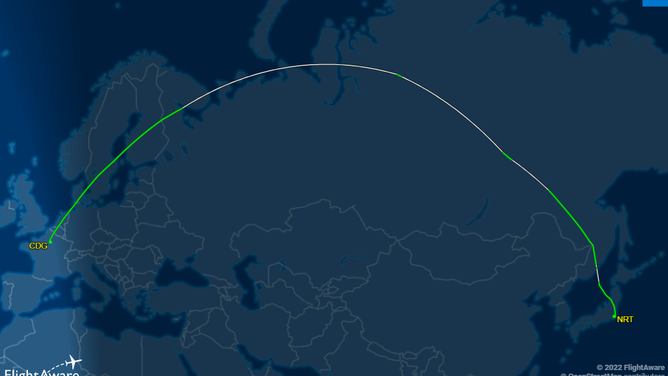 Before the limitations, the over 6,000-mile flight from Paris' Charles de Gaulle Airport to Tokyo's Narita International Airport took around 11 hours to complete.
Following the restrictions, the same journey tracked by FlightAware on Monday, took over 13 hours as the plane appeared to carefully avoid Russian airspace.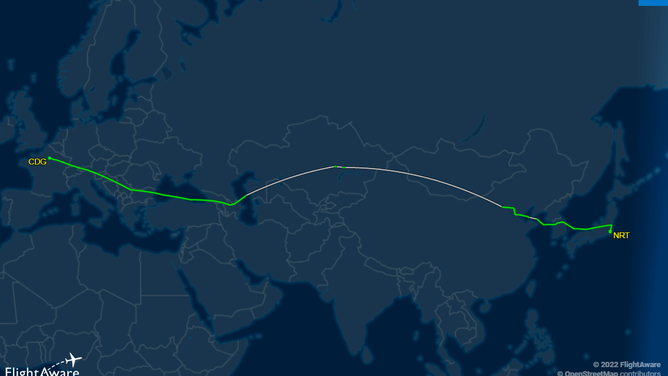 Bangs said closed airspace should be taken seriously and believes that the reduced possibilities for emergency landings will also be a concern that aviation companies will take into consideration during flight planning operations.