Weather looks sweet for a 'berry' nice Florida Strawberry Festival
The 11-day community event celebrates the strawberry harvest of Eastern Hillsborough County
PLANT CITY, Fla. – The weather looks "berry" nice to kick off an annual Florida event ranked among some of the best fairs in North America.
The 87th Annual Florida Strawberry Festival gets underway Thursday and runs through March 13. The 11-day community event celebrates the strawberry harvest of Eastern Hillsborough County. 
FLORIDA'S WINTER STRAWBERRY SEASON BERRY DEPENDENT ON WEATHER
Temperatures in Plant City will be in the mid-80s to lower 90s for most of the duration under sunny skies. There is a chance for some showers late next week. The area 30 minutes east of Tampa is known as the "Winter Strawberry Capital."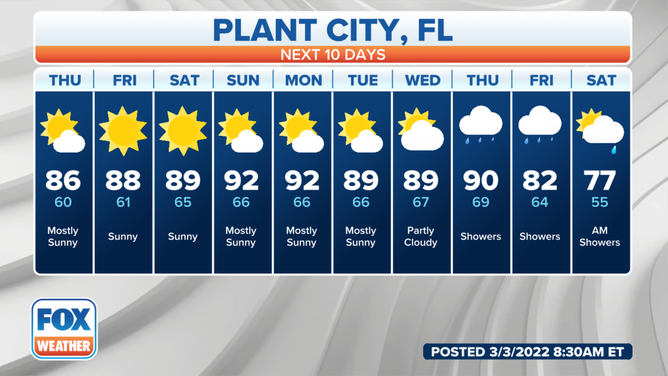 Nearly 500,000 people are estimated to attend the festival this year, enjoying live music, youth livestock shows and let's not forget the strawberry shortcake. The event has become one of the best Festivals in the nation and now ranks among the top 40 fairs in North America.
This year's headline entertainment includes Lady A, Boyz II Men, The Beach Boys, Jake Owen and Sam Hunt. And that's just a taste of the lineup. Organizers had to cancel last year's concerts due to the pandemic.
Hillsborough County, the heart of Tampa Bay, is one of the largest agricultural counties in the nation. More than 10,000 acres of strawberries are planted annually in the local area. 
According to the Florida Strawberry Growers Association, there are approximately 8,000 acres of strawberries grown in Florida, second only to California.
BERRY BIG: COLD WEATHER HELPS GROW WORLD'S HEAVIEST STRAWBERRY
Nearly 2,800 farms in Hillsborough County produce fruit and vegetable crops with an annual value of over $360 million. Florida's strawberry season runs until mid-April.