Berry big: Cold weather helps grow world's heaviest strawberry
The 10.19-ounce berry was confirmed this week by Guinness World Records as the heaviest on record
An Israeli agriculturist's strawberry weighing more than a half-pound is shattering record books.
The 10.19-ounce piece of fruit was confirmed this week by Guinness World Records as the heaviest on record. It measured over 13 inches in circumference.
To put that into perspective, this single berry could be used to make half of a traditional 12-slice strawberry cheesecake.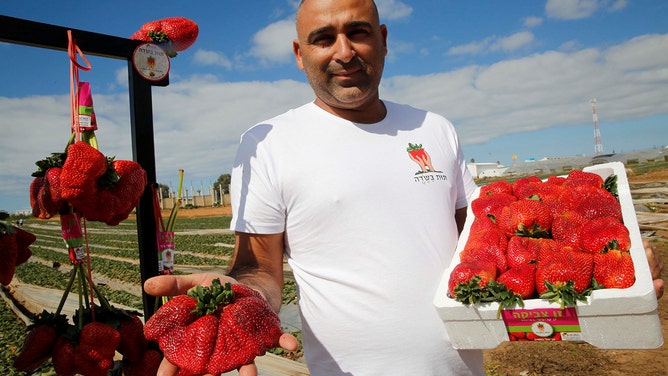 Cold weather conditions led to a bumper crop of strawberries for grower Ariel Chahi and his family's fruit farm located in Kadima-Zoran, Israel. They produced not just one, but four sizable strawberries.
This strawberry is of the Ilan variety and is known to produce large fruits. It was originally bred by Dr. Nir Dai, a researcher from Israel's Agricultural Research Organization at the ARO Volcani Center near Tel-Aviv.
Researchers said the strawberry developed slowly for more than 45 days from flowering which caused multiple berries to grow and fuse together to form one large strawberry. 
"During this strawberry season in late January and early February it was particularly cold," said Dai, who was one of the witnesses during the strawberry's weigh-in.
The previous record for the world's heaviest strawberry was 8.82 ounces grown by Koji Nakao in Japan and weighed in January 2015. The strawberry was a Japanese variety called Amaou.