Watch: Helicopter rescue of injured climber in Zion National Park
Injured man clung to crevasse in cliff face overnight waiting for help.
A solo climber was rescued Sunday after he fell down a cliff face at Zion National Park the day before.
After sustaining several injuries, he crawled into the relative safety of a crevasse.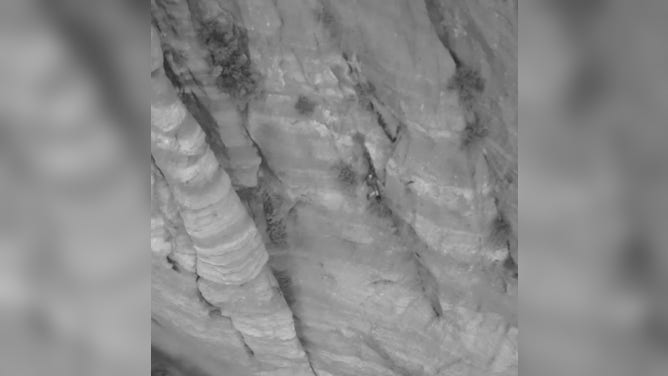 OASIS AMID THE DESERT: ZION NATIONAL PARK IS A TREASURE OF THE WEST
Park rangers found the man and directed a helicopter to the cliff on Sunday. The injured climber had minimal water, snacks and clothing to stay warm and hydrated through the night.
CLICK HERE TO GET THE FOX WEATHER UPDATE PODCAST
Winds gusted Saturday afternoon and evening up to 22 mph with temperatures in the upper 70s. But the air quickly cooled.
Overnight the wind calmed and the temperature dropped to 36 for a low. At times with the wind chill, it felt like only 33 degrees. Utah's Department of Public Safety said the climber was completely unprepared for the cold and for spending the night in the open.
WHAT DOES THE WIND CHILL MEAN?
"Please plan ahead before you go out," pleaded the DPS in an Instagram post.
Crews lowered a rescuer from a helicopter that hovered above the canyon. He was able to secure the injured man and hoist him into the aircraft. 
The chopper had a very short window of opportunity. Winds started gusting 30-40 mph before 10 a.m. which would have made the recovery nearly impossible.