Warmer air moves in, dangerous cold exits the Plains, Midwest this week
The region will experience temperatures 15 to 25 degrees above average
It's been bitterly cold in the Northern Plains and Midwest recently, but a brief "warmup" is expected to bring some relief to the region.
Wind chill alerts remain in effect from eastern Montana to the Great Lakes through Monday morning as strong winds make it feel like minus 45 degrees in spots.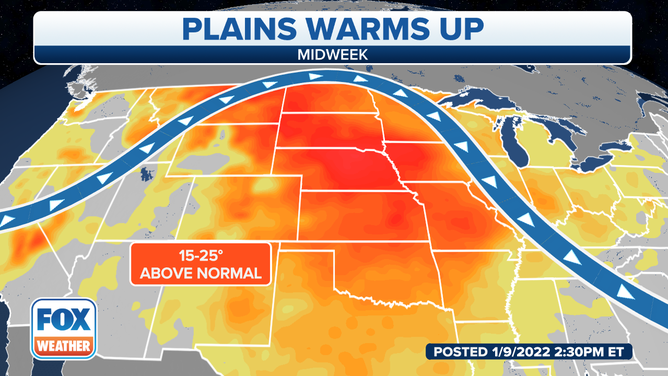 But the jet stream will begin to lift north as we start the week, which will allow for the warmer air to fill in from the south. And that will cause temperatures to rise to 15 to 25 degrees above average for mid-January.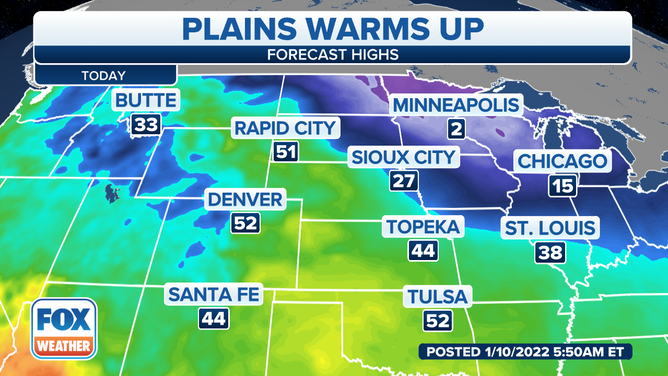 We'll still have some colder temperatures to start the week, however. Minneapolis is only expected to be around 2 degrees on Monday. Other areas around the Great Lakes and Northern Plains will remain chilly, with many places staying in the teens and 20s.
The Central Plains will enjoy the warmer temperatures, though. Rapid City, South Dakota, and Denver will see high temperatures in the lower 50s on Monday.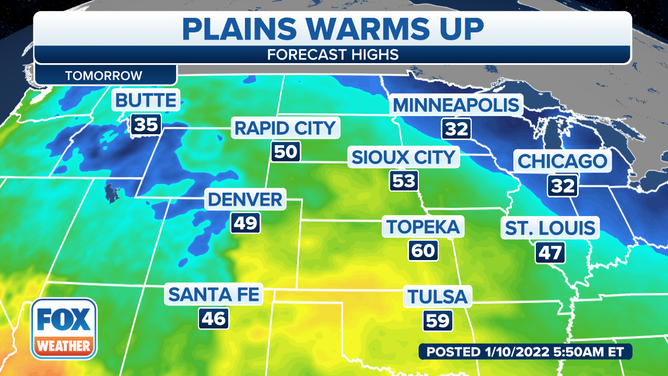 The mild temperatures will reach farther north by Tuesday. Minneapolis and Chicago will jump to 32 degrees for a high temperature, while areas to the south will see temperatures in the 50s and 60s.
Topeka, Kansas, and surrounding areas could hit 60 degrees, which is well above average for mid-January.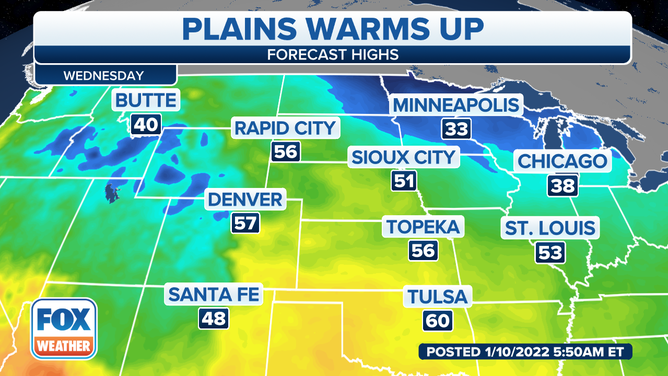 More areas of the Plains and upper Midwest will begin to enjoy that mild air by midweek. The 50-degree temperatures could be felt from Denver and Rapid City to St. Louis, where the city could hit 53 on Wednesday.
The Oklahoma and Texas panhandles will be in the 60s as the jet stream continues its lift to the north, pushing that cold air back into Canada.