Warm 2021 finish for the South with potential record heat
December 2021 could be hottest on record for Southern Plains, Southeast
The Southern United States will have a warm finish to 2021 with potentially record-breaking high temperatures.
The record heat will solidify December 2021 at the hottest on record for nearly every city in the Southern Plains and possibly the Southeast. Cities across Texas, Mississippi, Alabama and Georgia have the potential to see record highs on Tuesday and Wednesday.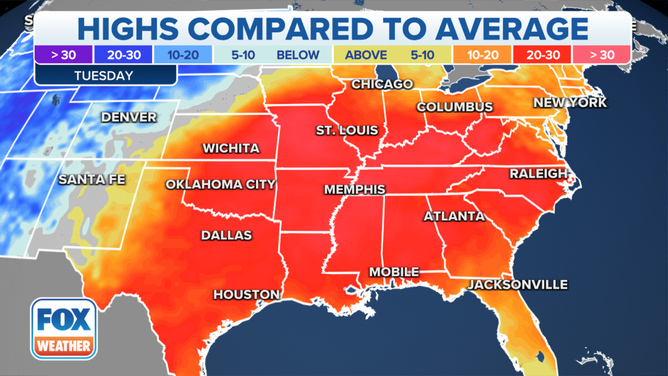 North Carolina is also on the hot streak with unseasonably warm temperatures into the 70s, about 20 degrees above normal in Charlotte and a high of 68 degrees in Asheville on Tuesday.
It's been unseasonably warm in southeast Texas throughout December, with temperatures running about 15 to 20 degrees above normal. 
Wichita Falls, Texas, hit a record high in December, recording 91 degrees on Christmas Eve. The National Weather Service in Houston reports Galveston broke its 2016 record on Dec. 24, recording a 78 degree high, and Houston Hobby tied its 1948 Christmas Eve record with 82 degrees.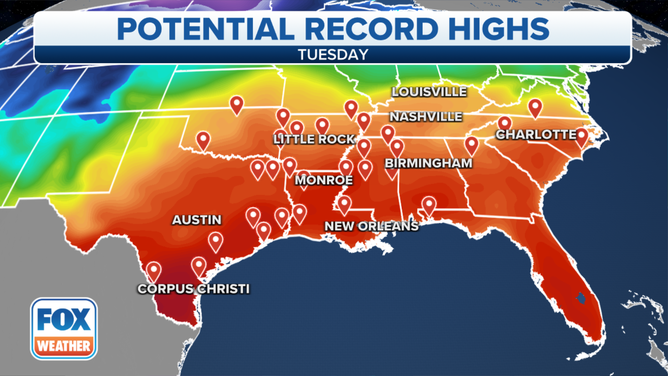 On Tuesday, more than 30 cities across the Southern Plains and Southeast have the potential to top record high temperatures. 
Houston could break its 1984 record for Dec. 29 if it hits a high of 82 degrees, but by the weekend, temperatures are expected to drop as a cold front moves through on Saturday.
Below is a breakdown of potential record highs this week.

With the warmth, some areas in the South will have a few scattered showers with the potential for severe storms. The NWS in New Orleans said there is a minimal threat of isolated strong and potentially severe storms beginning late Tuesday afternoon.
Widespread showers and storms are expected from the Midwest to the Southeast starting on Tuesday, but the chances for severe weather will increase on Wednesday.
With the heat and low relative humidity, the fire danger is expected to increase in the southern High Plains. 
A cold front pushing in over the weekend should provide some relief from the heat to the Southern Plains.