4 US Marines killed after aircraft crashes during rough weather in Norway
Thousands of troops were training in Norway for Cold Response 2022
NORDLAND COUNTY, Norway – Four U.S. Marines were killed Friday evening over the northern part of Norway while taking part in a training exercise that Defense officials said is designed to test communications and military responses amongst partner allies.
Officials said the crew was aboard a U.S. military Osprey when it encountered significant weather and crashed.
Rescuers said numerous resources were deployed to the area, but weather conditions were challenging and impeded their response.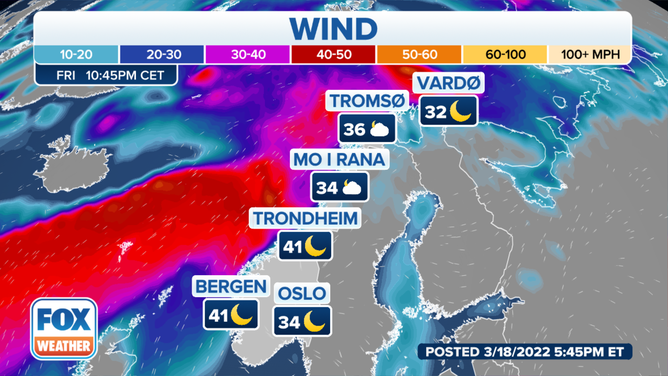 While many areas of the country were seeing clear conditions, computer models showed strong winds, especially along coastal areas.
The V-22 Osprey is a multi-engine aircraft that is designed to transport troops, equipment and supplies.
The Department of Defense says the $71.3 million aircraft can carry upwards of 24 combat troops. 
HOW TO WATCH FOX WEATHER ON TV
Thousands of troops from the U.S. and NATO allies are in the Nordic country training as Cold Response 2022.
Defense officials previously said the exercise would test the ability of military forces through rugged terrain and extreme weather.
NATO said the training exercise was not a result of the Russia-Ukraine conflict and was planned well before the invasion.
The Cold Response exercise is expected to last through April 1.