US endured 3rd-warmest fall, 7th-warmest November in 2021, NOAA says
2021 is on pace to be the 7th-warmest year on record for the US
A warm November in the United States vaulted climatological fall to the third-warmest on record for the Lower 48 states, according to a report released Wednesday by NOAA.
The average temperature during the three-month period from September through November was 56.7 degrees, or 3.1 degrees above the 20th-Century average. Only 2016 and 2015 had a warmer fall than 2021.
Temperatures over the last three months were warmer than average across most of the contiguous U.S. Colorado, Montana and Wyoming each reported their second-warmest fall, while 14 additional states ranked among their five warmest autumns.
No state was colder than average over the fall season, though Alabama, Georgia and South Carolina reported near-average temperatures during the three-month period.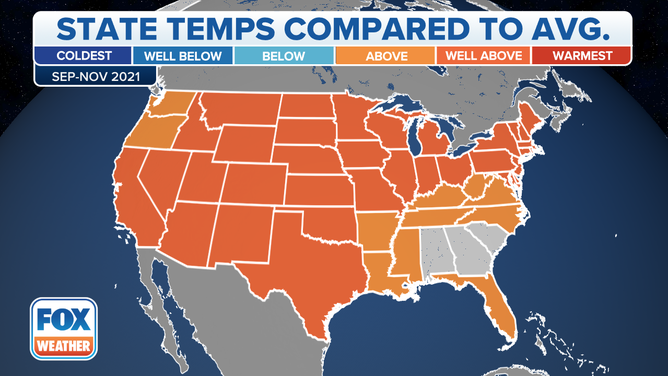 September 2021 kick-started the warm autumn, ranking as the fifth-warmest September on record for the Lower 48. That was followed by the sixth-warmest October and the seventh-warmest November.
WHY FALL SHOULD ACTUALLY BEGIN ON SEPTEMBER 1
Six of the 10 warmest autumns for the contiguous U.S. have occurred since the year 2000, according to NOAA. The September-to-November periods of 1999, 1998, 1963 and 1931 are the only falls among the 10 warmest to occur before 2000.
Most of the United States has observed a warming trend in autumn since 1970, according to an analysis from Climate Central, a nonprofit news organization that analyzes and reports on climate science. This is especially true from the Desert Southwest to the Rockies, with notable fall warming also occurring in Southern California, the Great Basin and from northern New Jersey into New England.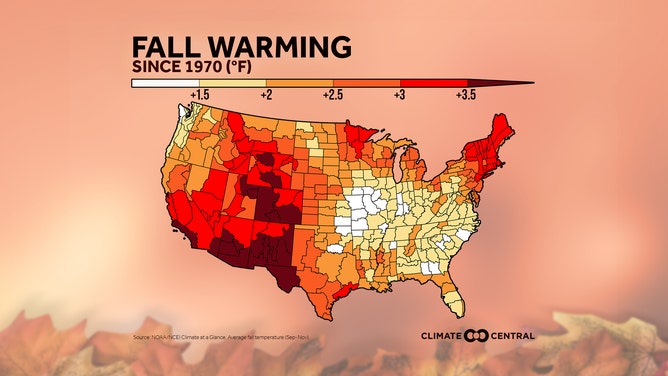 With only one month left in 2021, the year-to-date average temperature in the contiguous U.S. is 55.9 degrees, or 2.1 degrees above the 20th-Century average. This makes it the seventh-warmest January-to-November period on record.
UNITED STATES ENDURED HOTTEST SUMMER ON RECORD IN 2021, NOAA SAYS
NOAA's temperature records date back to 1895.