Up to 4 feet of new snow expected for California mountains ahead of Christmas
Inches of rain and feet of snow head for California just in time for Christmas travel
An area of low pressure off Northern California will focus a stream of Pacific moisture and send a series of storms across the Golden State, which could mean up to 4 feet of snow just in time for holiday travel.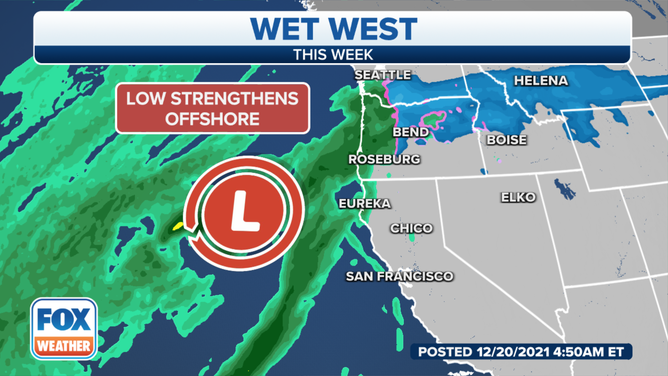 The first wave of rain and snow arrives Tuesday through Wednesday. Mild temperatures will keep snow levels relatively high. FOX Weather forecasts 1 to 4 inches of heavy, wet snow below 7,000 feet for the Sierra Nevada and coastal ranges. Above 7,000 feet, mountain peaks could see over a foot of snow, creating near-whiteout conditions with winds gusting to 75 mph.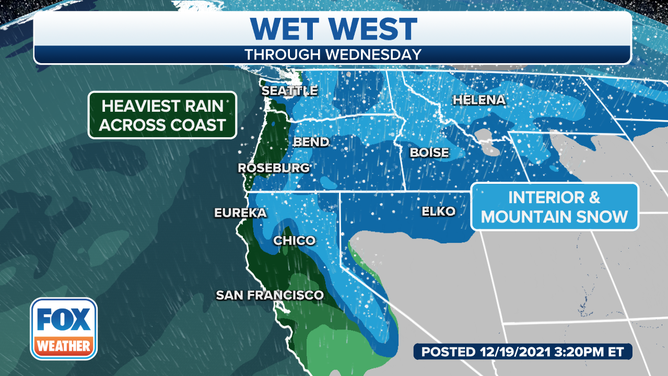 WINTER WEATHER ALERTS ISSUED AHEAD OF STORM SET TO CRASH INTO PACIFIC COAST
The California Department of Transportation (Caltrans) said it just dug out Highway 89 near Lake Tahoe on Monday but expects the new snows to close it again.
"Once the snow starts Tuesday evening, travel across the Sierra will become very difficult to impossible at times through this weekend," the National Weather Service in Reno, Nevada, stated in its forecast discussion.
Heavy snow moves in late Wednesday, then again for Christmas Day and Sunday. As snow levels drop and colder air moves in, the mountain peaks and passes are forecast to get up to 4 feet of new snow for the end of the week and into the weekend. Even the foothills could see a few inches.

Coastal areas and valleys in and north of the San Francisco Bay Area and Sacramento will see 2 to 5 inches of rain through the weekend.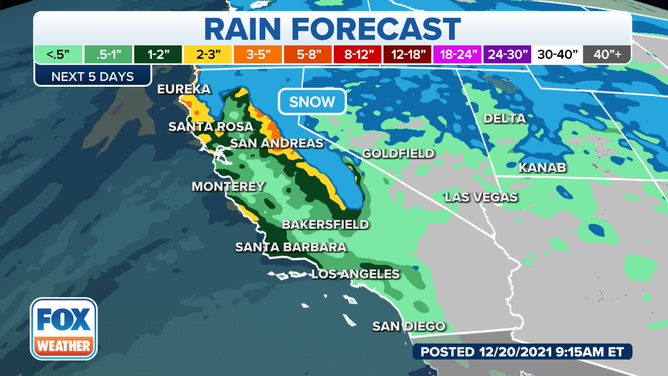 The rain will yield slippery roads for holiday travelers but only minimal flooding in low-lying areas and ponding on roadways.