2 rounds of snow eye the Midwest
Significant snow accumulations are possible with the second system Friday into Saturday
A pair of snowmakers will take aim at the Midwest through this weekend.
The first system will develop over the upper Midwest Wednesday night into Thursday, with snow potentially impacting the Thursday morning commute in cities such as Minneapolis/St. Paul, Chicago, Milwaukee and Green Bay, Wisconsin. Snow should taper off across the region Thursday afternoon.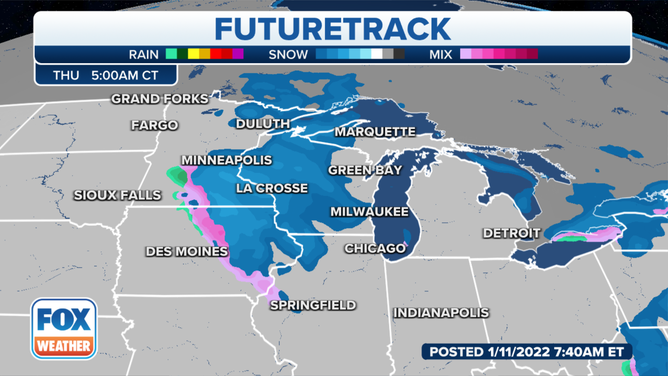 A second, stronger low-pressure system will follow almost immediately on its heels Friday as it barrels southward out of Canada, bringing more widespread accumulating snow into Saturday.
THESE ARE THE 7 SNOWIEST CITIES IN THE U.S.
While there is a bit of uncertainty in the timing, current computer forecast models suggest snow will begin over the Northern Plains on Friday morning, then spread south and eastward into the upper Midwest by Friday afternoon and the mid-Mississippi Valley Friday night and Saturday.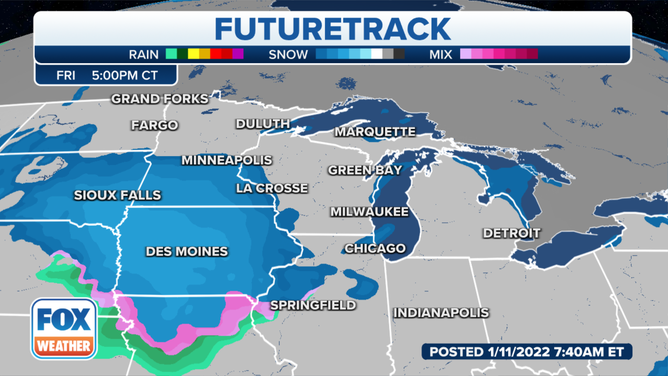 It's still too early to predict exact snowfall amounts, but this second system has the potential to produce significant snow accumulations in excess of 6 inches.
Travel impacts appear likely across the region Friday into Saturday.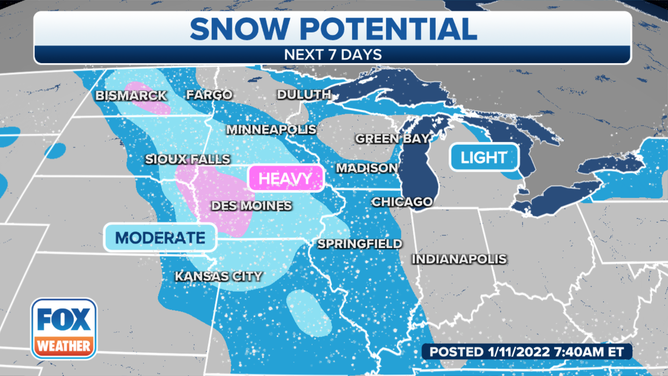 Check back with FOX Weather for updates throughout the week. Be sure to download the FOX Weather app to see more specific details for your current location.