Tuesday tornado threat aimed at large area of vulnerable mobile homes
Mobile homes are no match for tornadoes and are not a safe place to be during a tornado no matter where you are inside.
A strong storm system bringing a substantial threat of severe weather and tornadoes to parts of the South Tuesday is taking aim at a particularly vulnerable area.
NOAA's Storm Prediction Center has issued a "Moderate" risk of severe weather for parts of eastern Louisiana and southwestern Mississippi Tuesday -- the fourth level on the SPC's 5-level severe weather threat outlook scale.
MORE: Multiday Severe Weather Outbreak Could Bring Strong Tornadoes
Villanova assistant professor Stephen M. Strader shows tweeted that his research shows the area under greatest threat Tuesday is in a region with a large percentage of those living in mobile homes.
"My work has illustrated that manufactured housing plays a very important role in tornado impacts," Prof. Strader told FOX Weather. "In fact, 45% of all tornado deaths occur in manufactured homes although manufactured housing only makes up 6% of the entire U.S. housing stock. Also, compared to all other regions of the U.S. over 75% of manufactured homes in the Southeast are NOT located in manufactured home parks or communities."
Strader says this more relaxed zoning means that there are manufactured home "targets" for tornadoes to strike.
Mobile homes are no match for tornadoes and are not a safe place to be during a tornado no matter where you are inside.
LEARN: Tornado Safety: Identifying the Safest Places Inside Your Home 
"We can't ever recommend that people stay in a mobile home because of their very nature. Even if they're manufactured, they are somewhat mobile, which means they're not attached to a sturdy foundation in a permanent way," said Leslie Chapman-Henderson, President and CEO of Federal Alliance for Safe Homes.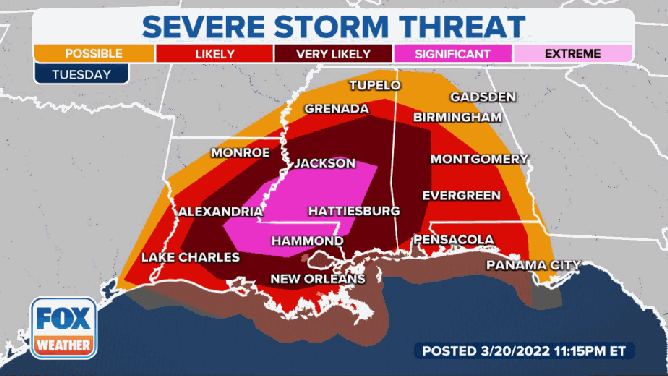 MORE: Advice for dealing with storm anxiety when severe weather threatens
So for any tornado warning, the immediate advice is to always get out.  NOAA experts say head to an underground shelter or permanent, sturdy building.
"Your plan could include staying with someone who is in a sturdy permanent structure if a tornado threat is forecast," NOAA suggested. "Most tornadoes can destroy even tied-down mobile homes, and it is best not to play the low odds that yours will make it."
Formulate your plan now before the severe weather arrives. Where could you go when a tornado warning is issued? Seek out local shelters in your neighborhood or town or find someone to stay with Tuesday until the threat passes. Don't wait until the tornado is blocks away.
In addition to a significant number of mobile homes in the warned region Tuesday, Strader says poverty, the leading cause of high vulnerability to natural hazards, is prevalent in these rural Southeast locations. And his research with Dr. Walker Ashley at Northern Illinois University has indicated that nighttime tornado risk is much greater in the Southeast compared to all other regions of the United States.
"Of course, this makes it harder for folks to take action if they are asleep," he said. "Tuesday's event is scary because it contains all of these factors plus a messy (storm set up) that will make tornado detection more difficult. It's a recipe for tornado fatalities."