West Coast sees tsunami waves after massive volcanic eruption
A sea level rise of 4 feet was reported in Port San Luis, California.
A sea level rise of more than four feet impacted parts of coastal California on Saturday, hours after a volcanic eruption in the southwestern Pacific triggered a tsunami. 
The Pacific Tsunami Warning Center issued tsunami advisories for the entire West Coast, including Alaska and Hawaii, following the massive volcanic explosion near Tonga.
Ocean monitoring stations along the entire rim of the Pacific Ocean reported anomalies associated with the event.
WHAT IS A TSUNAMI AND WHAT CAUSES THEM?
Along the West Coast of North America, California saw some of the highest water rises. A monitoring site in central California reported a sea level rise of 4.3 feet.
Most reporting sites saw a water rise of less than three feet, causing no significant issues.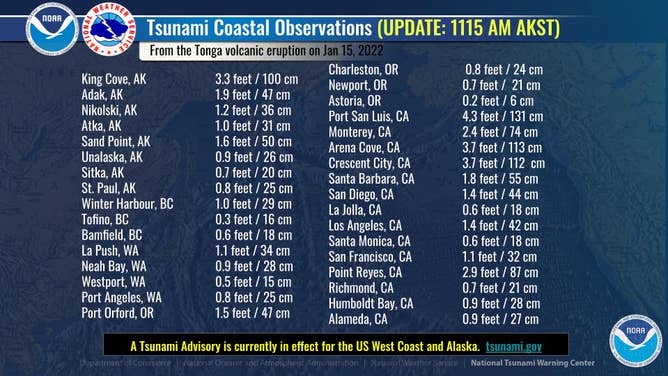 Advisories were canceled after monitoring stations reported wave activity in the eastern Pacific returned to a more normal stage.

Fortunately, significant inundation of coastal regions of the U.S. was not reported and damage was limited to mostly marinas.

Video from Santa Cruz, California showed water sweeping into the harbor on Saturday morning, which caused at least one vessel to break free from its moorings.
Observed wave heights in Hanalei, Hawaii, reached as high as 2.7 feet early Saturday morning. 

Swimmers and boaters were advised to use caution and be watchful for unusual sea activity.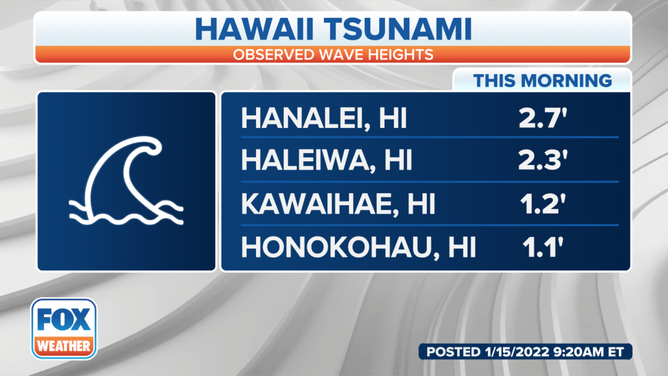 Agencies were monitoring the volcano
The volcano that caused shockwaves worldwide and tsunami waves to impact coastal regions of the Pacific was being monitored by experts for the likelihood of a significant event. 
The government of Tonga, which is home to more than 100,000 people, issued a notice on Friday before the blast warning about a large impending event on Hunga Tonga Hunga Ha'apai.
The undersea volcano, located in the southwestern Pacific about 1,200 miles from the nation of New Zealand, was recently active and has produced several eruptions since 2009.
Friday's eruption was the largest in memory for the volcano.
The volcano produced a plume of ash that was estimated to have reached more than 60,000 feet into the sky, causing satellites to easily pick up on the intensity of the event.
While damage was limited thousands of miles away from the site of the eruption, several countries said they had not made contact with the islands near volcano site.

FOX News reported that several people were missing on the island nation of Tonga, including the family of Pita Taufatofua, who went viral during the Olympics after carrying the nation's flag.

New Zealand Prime Minister Jacinda Ardern warned it could be at least Monday before the country is able to send surveillance aircraft over Tonga and nearby islands to access the damage.