Tropical Storm Henri swirls near Bermuda
Storm will likely miss the island nation and dissipate by this weekend.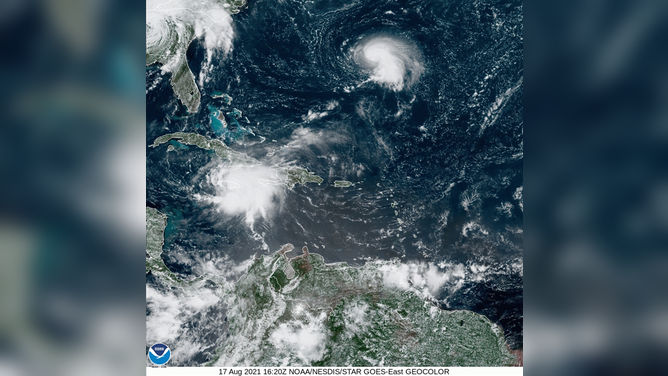 Forecasters are watching three tropical systems Tuesday.

As Tropical Depression Fred moves through the Southeast U.S. and Tropical Storm Grace continues its push through the Caribbean, Tropical Storm Henri swirls near Bermuda.

The National Hurricane Center said that as of 2 p.m. Eastern the center of Henri was about 135 miles south-southeast of Bermuda and is unlikely to move much closer to the island. 

Henri has maximum sustained winds of about 60 mph. 

A tropical storm watch remains in effect for Bermuda, meaning that tropical storm conditions are possible for the island. Bermuda may receive "gusty showers, as well as hazardous swells along (its) south shore", according to the Bermuda Weather Service.

Tropical Storm Henri is expected to move in a clockwise motion around Bermuda — first moving westward by Wednesday evening, begin to turn north by Friday morning and then dissipate over the weekend as it moves northeastward.