Forecast shows Henri moving over Cape Cod on Monday
Henri could become a hurricane by Friday afternoon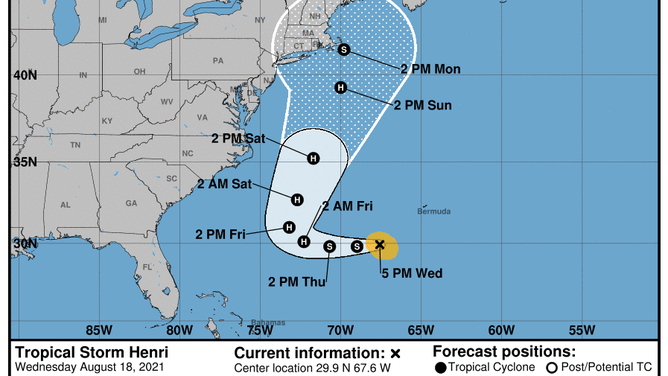 Thursday afternoon's forecast for Tropical Storm Henri shows the storm moving over Cape Cod sometime Monday. 
As of 5 p.m. Eastern, Henri was swirling in the western Atlantic Ocean between the East Coast of the U.S. and Bermuda. According to the National Hurricane Center, the storm has winds of 70 mph, which puts it just below hurricane strength. The storm was moving west at 9 mph. 
Henri is expected to begin a turn north Friday before making a run at the Northeast U.S. coast sometime Sunday or Monday.
The NHC forecast calls for the center of Henri to be sitting over Cape Cod by Monday afternoon. Much of the Northeast, from Long Island to Maine is now in the cone of uncertainty.
The last tropical system to move directly over Cape Cod was an extra-tropical low called Hermine in 2016.
Stay with FOX Weather for the latest developments on Tropical Storm Henri.